Alameda dad says kids came home from trick-or-treating with repurposed sauce packets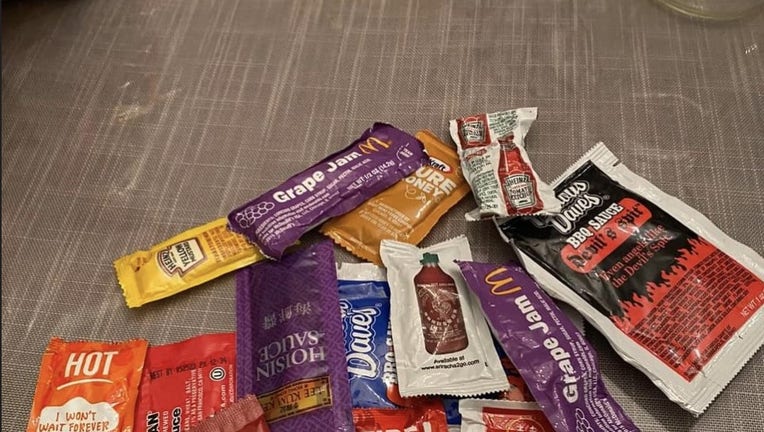 article
ALAMEDA, Calif. - Each year, every kid's trick-or-treating bag results in a colorful array of gluttonous sweetness. 
From fun-size to king-size, one of the best parts of Halloween is coming home to go through your stash of candy, laying them out for everyone to see, then bargaining trades with your siblings and friends.
But this Halloween, an Alameda dad noticed something different in his kids' bags: recycled sauce packets. 
That's right, a few homes apparently gave out the little packets of ketchup, mayo, and hot sauce — the freebies you get from fast food restaurants.
He shared a photo of about a dozen rectangular packets from McDonald's and other shops strewn on the floor. 
"My three kids and four close friends went trick-or-treating last night and many single serving sauce packets were 'recycled' as 'treats,' the dad posted to Facebook. "Let it not be said that Alameda peeps don't have a great sense of humor."
The humorous post was met with equally funny comments.
"Score on the Sriracha!!" one responded.
"My son came home with a packet of Southwest Airlines pretzels," wrote one parent. "Can't really complain when he still has 8lbs of candy."
"It's called TRICK or treat for a reason, bruh," said another. "Better than candy laced with ecstasy."
At least the sauce packets weren't dangerous. 
The day before Halloween, Alameda police had warned parents that cannabis-infused fruit candy was given to children at a PTA event at Amelia Earhart Elementary School. 
One child ingested the THC candy, "became ill and sought immediate medical attention," police said. 
ALSO: Cannabis candies found after kids attend Halloween event at Alameda school
Despite the candy scare, many reported a successful night of trick-or-treating, packed with joyful crowds of dressed-up kids and parents. 
And as one parent concluded in response to the sauce packet score, one of their fondest memories of Halloween was their parents teaching them to be grateful no matter what was in the Halloween bag.