Alameda identifies three officers involved in deadly struggle with Mario Gonzalez
ALAMEDA, Calif. - The city of Alameda on Wednesday identified three police officers who have placed on administrative leave in connection to the fatal struggle of 26-year-old Mario Gonzalez and their attorney said that they are "heartbroken" about his death. 
The officers are James Fisher, Cameron Leahy and Eric McKinley, city spokeswoman Sarah Henry said. The city also identified a parking enforcement officer, Charlie Clemmens, as being involved. Video shows him holding down one of Gonzalez's legs during the struggle. He is also on leave. 
Their San Rafael-based attorney, Alison Berry Wilkinson, said the officers are "heartbroken" that Gonzalez died. And she insisted none of her clients ever put a knee on his neck before the Oakland man died April 19 in a park-like area in the 800 block of Oak Street.
"Absolutely not," she said.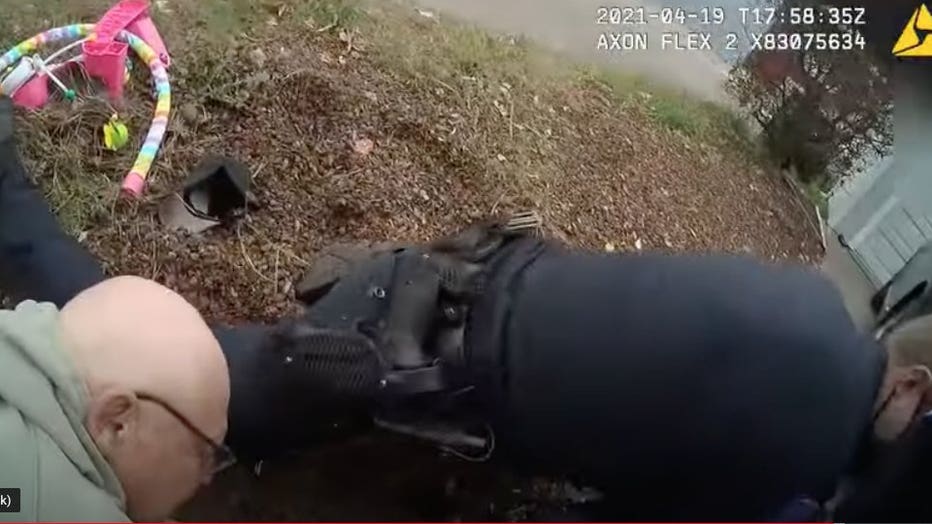 Civilian parking enforcement employee Charlie Clemmens was also involved in the deadly struggle with Mario Gonzalez on April 19, 2021 and is also on leave.
Body camera video of Gonzalez's last moments does show the officers kneeling on Gonzalez's back and putting an elbow on or near his neck. 
But Wilkinson said that physical struggle was because Gonzalez resisted the officers, who she said never intended for the struggle to progress the way it did. 
"They never wanted to take him to the ground," Wilkinson said. "It was the strength and intensity of Mr. Gonzalez's own momentum" that caused the group to fall. 
She said that the officers' sole concern was Gonzalez's safety. 
They noted he was highly intoxicated and stumbling around on a tree stump and thought he might harm himself, she said.
Asked why the officers couldn't have called a family member to pick him up or let him sit on a bench to wait it out instead of restraining him,  Wilkinson said those approaches would not have likely worked out because of his disorientation. 
But there was no need to arrest him, and for such minor offenses, in the first place, according to his family and civil rights activists who held a protest outside Alameda City Hall on Tuesday. 
"Police are not allowed to arrest people to keep from tripping," said Gonzalez's family attorney, Julia Sherwin. "They wanted to keep him from tripping so they killed him instead? That's utterly ridiculous." 
Gonzalez's mother, Edith Arenales, also said her "kind" and "level-headed" son did not need to be taken down with such force, especially since the officers said they cared about his well-being. 
"There was a way to deal with this situation without killing my son," she said. 
"Everything we saw in that video was unnecessary and unprofessional," Mario's brother, Gerardo Gonzalez said. "And it took a minuscule event and made it fatal."
Gonzalez's death is now under investigation by the Alameda County Sheriff's Department, the county district attorney's office and a former San Francisco city attorney hired by the city to lead an independent probe.
The officers were publicly named a day after the Alameda Police Department made public an hour-long video of body cam footage showing them pinning Gonzalez down to the ground for more than five minutes. 
Gonzalez weighed about 250 pounds and the weight on top of him made it difficult, and then impossible, for him to breathe, according to Sherwin. 
Police were called out to investigate Gonzalez after a neighbor called to say he was intoxicated and in his driveway. Another caller suspected him of stealing alcohol from Walgreens, which Sherwin said has not been proven at this point.
Sherwin and his family do acknowledge that Gonzalez was drunk at the time. The video shows that he was mumbling and a bit incoherent, but he was not threatening or actively hurting himself or anyone. 
He was taken into restraints when he did not provide ID to the officers. 
Gonzalez died one day before former Minneapolis Officer Derek Chauvin was convicted of murder and manslaughter for pinning George Floyd to the pavement with his knee on the Black man's neck in a case that triggered worldwide protests, violence and a furious reexamination of racism and policing in the U.S.
The park incident unfolded as the jury in the Chauvin trial began deliberating.
Wilkinson added that "it's a very challenging time to be a police officer" right now.
Lisa Fernandez is a reporter for KTVU. Email Lisa at lisa.fernandez@foxtv.com or call her at 510-874-0139. Or follow her on Twitter @ljfernandez