Almost 700k Oball baby rattles recalled due to choking risk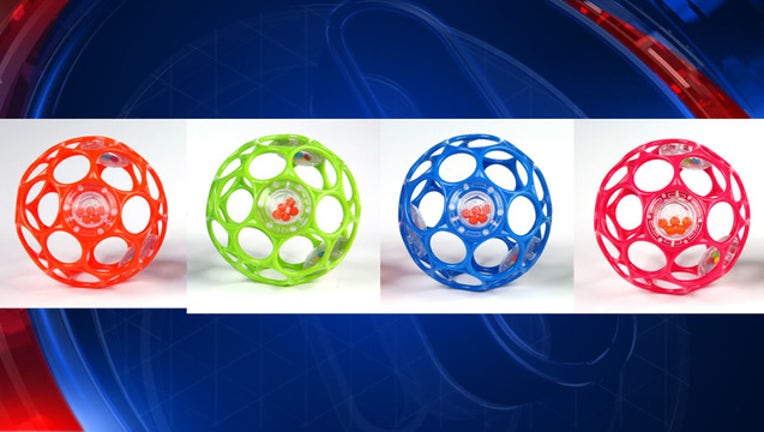 article
The Consumer Product Safety Commission announced a major recall of popular baby rattles that could break and cause the baby playing with the toy to choke.
Roughly 680,000 Oball Rattles were recalled Friday while another 17,000 were recalled in Canada. The rattles are four inches in diameter and have 28 finger holes. The problem lies in the clear plastic discs that have beads in them.
The CPSC says they have received 42 reports of the discs breaking and the small beads popping out. Those beads could cause a choking hazard for children and have been found in the mouths of at least two children.
The recalled rattles have date codes T0486, T1456, T2316, T2856 and T3065 located on a small triangle on the inner surface of the rattle.
The rattles were sold at Target, Walgreens, Walmart and other retailers nationwide and online at Amazon.com, Babyhaven.com, Diapers.com, ToysRUs.com, Walgreens.com and other online retailers from January 2016 through February 2017
Parents are asked to immediately take the toys from the children and contact the company for a refund by calling 77-243-7314 from 8 a.m. to 5 p.m.  ET Monday through Friday or by clicking here.