Alternate juror supports murder acquittal in pier shooting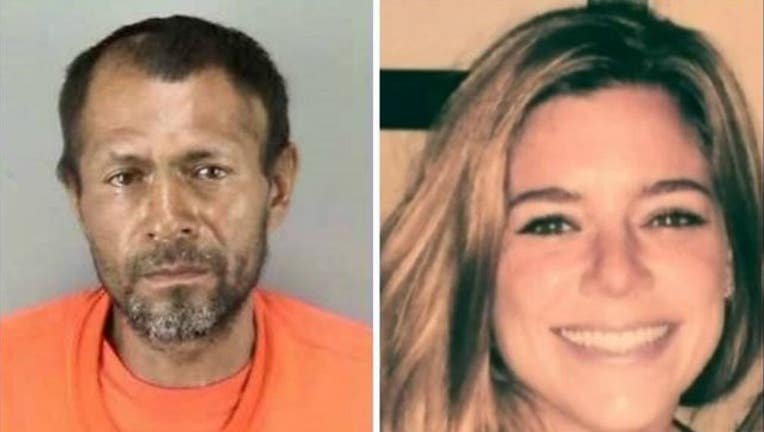 article
By PAUL ELIAS
SAN FRANCISCO (AP) -- An alternate juror who sat through a murder trial in a case that sparked a fierce national debate on immigration said Wednesday he agreed with the jury's decision to acquit a Mexican man of murder in  the shooting death of a San Francisco woman two years ago.
Phil Van Stockum, 33, said in an interview that there was no evidence Jose Ines Garcia Zarate planned or meant to kill Kate Steinle in 2015.
Garcia Zarate said he found a gun wrapped in a T-shirt under a seat on a popular pier, and it fired when he picked it up. 
The bullet ricocheted off a concrete walkway about 18 feet  (5.49 meters) away and flew another 80 feet (24.38 meters) before striking Steinle in the back as she walked with her father and a family friend.
"The ricochet played into heavily whether he had the state of mind to commit murder," said Van Stockum, who didn't participate in jury deliberations. 
Still, he sat through the entire trial and spoke with jurors after the verdict.
"I was not surprised by the verdict," he said.
Prosecutors charged Garcia Zarate with murder, arguing that he planned to kill somebody when he picked up the gun.
Van Stockum wrote an essay that Politico.com published Wednesday defending the verdict. He said he felt a need to explain it after President Donald Trump, Steinle's parents and many other commentators and social media users said they were disappointed with the decision.
"They appear to be confused by the verdict," Van Stockum said. "I was not confused."  
Garcia Zarate had been deported five times prior to the shooting that occurred after the San Francisco sheriff's department ignored a federal immigration detainer request and released him when an old marijuana charge was dropped. 
San Francisco is a sanctuary city and officials are limited in the cooperation they can give federal immigration authorities.
Van Stockum, a mechanical engineer, said he and other jurors were able to put aside their feelings about immigration and the news coverage the case received before the trial.
"The evidence did not show beyond a reasonable doubt he intended to kill anyone," Van Stockum said. "Politics had nothing to do with it."
Van Stockum said acquitting Garcia Zarate of involuntary manslaughter was a closer call. He said the jury instructions directed them to first determine if Garcia Zarate "brandished" the gun before it fired if they wanted to find him guilty of involuntary manslaughter.
He also said the evidence showed that a minuscule amount of gun powder was found on the hands of Garcia Zarate, supporting his claim that the gun was wrapped in a T-shirt when he picked it up and it fired. 
Trump pointed to Steinle's death while campaigning for president as another reason why the United States should build a wall on it southern border and tighten immigration restrictions. 
The jury did convict Garcia Zarate of being a felon in possession of handgun. His public defender Matt Gonzalez said he will ask a judge to toss out that conviction.
A federal grand jury in San Francisco indicted Garcia Zarate Tuesday on two gun and immigration charges. Gonzalez didn't return a call Wednesday.