Antioch business man serves up coffee jobs for ex-convicts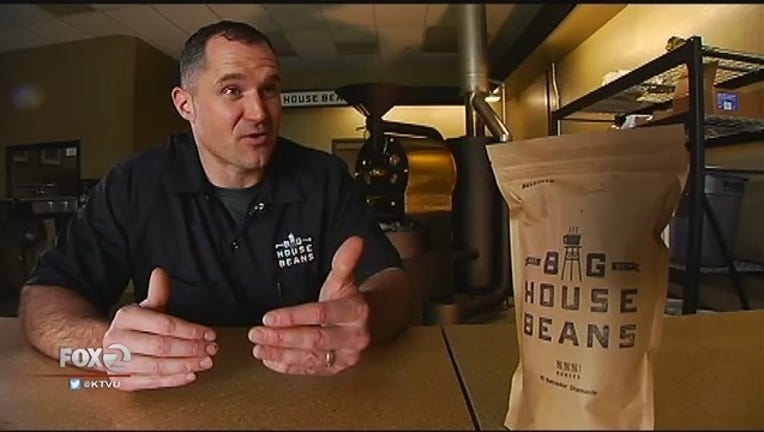 Owner John Krause of Big House Beans in Antioch said life inside his business is a lot different than life inside the big house. Doing time at his business means employees can enjoy simple pleasures like making coffee.
Krause opened Big House Beans in October 2014. He sells roasted coffee beans to the public and wholesale to businesses.
He is helped by employee Juan Valdez, a former convict, who Krause hired specifically for that reason.
"I want people who have a not so favorable past to be able to come forward and feel good about themselves, not necessarily about what they've done or the decisions they've made because their past doesn't define them," Krause said.
Krause knows exactly what it is like to be in the shoes of an ex-offender. His past involved drugs and a path to prison by the time he was 22.
"I went to San Quentin for the first time for a high speed chase, evading police… I was definitely under the influence," he said.
Krause spent 9 years in and out of state prisons and said breaking the vicious cycle wasn't easy.
"It was very hard to get a job as an ex-offender and they don't call you and say because you're an ex-offender we're not going to be able to give you this job," Krause said.
He credits rehab, a mentor, and God for changing his life. He started to build relationships in the community and soon the support poured in. Krause said he fund-raised enough money to open the business.
Because of his success, Krause wants to pass along hope to others. He said part of the proceeds from Big House Beans goes to a men's halfway house in Concord called the Restore Home.
The long-term recovery house is where Randy Rupley lives.
"It absolutely changed my life," Rupley said. "There's a lot of support in this one little house here."
Rupley, 52, is a former meth addict and alcoholic who was homeless for two decades on Bay Area streets. Now, Krause is his sponsor and has brought him on as an intern at Big House Beans.
"To go there and train with John [Krause] is a huge blessing," Rupley said.
"Randy has been amazing," Krause added. "I've definitely seen a light come on in him and a passion. Does that mean that every day is perfect for him or me? No. There's a constant struggle."
But Krause said they keep pressing through. It's why he's passionate about donating proceeds to help men and women with their rehabilitation efforts.
"I don't want to shun people in society who everybody else is shunning," he added. "I want to embrace them and continue to love them until they learn how to love themselves."
Krause is not afraid to talk about his past, but rather said he is eager to share his story, especially over a cup of coffee.
"The community sense that coffee brings is very powerful," he added.
Krause said he has received numerous phone calls from people wanting help. Unfortunately he currently does not have any openings.
However, he is fundraising to expand the internship program in an effort to help with job training. To donate to the cause, visit this link.