Antti Niemi's 33 saves lead San Jose 5-1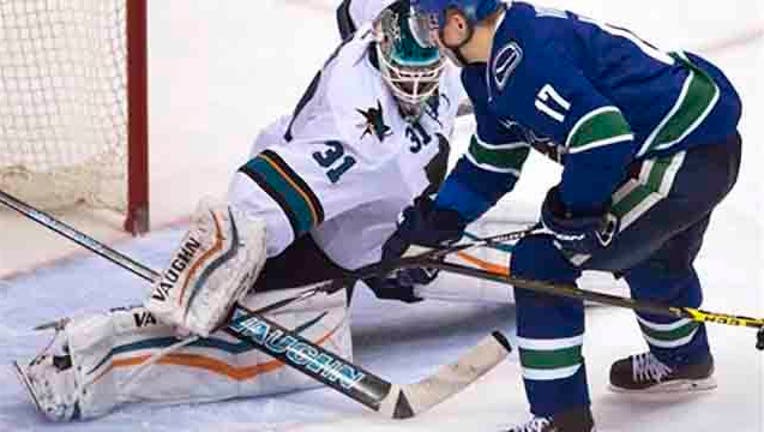 article
VANCOUVER, British Columbia (AP) -- Antti Niemi made 33 saves Thursday night as the San Jose Sharks defeated the listless Vancouver Canucks 5-1.
Matt Irwin, Melker Karlsson, Joe Pavelski, Andrew Desjardins and Chris Tierney, with his first NHL goal, scored for San Jose. Brent Burns and Logan Couture each added two assists. Tierney also tacked on an assist.
Radim Vrbata had the only goal for Vancouver and Ryan Miller stopped 33 shots in the loss.
The Canucks had won the first two meetings with the Sharks this season, but were down 1-0 after the first period and things got worse in the second.
Burns jumped on a Canucks turnover at the blue line and fired a shot that Karlsson tipped past a helpless Miller for his ninth of the season.
San Jose then put things out of reach late in the period when Vancouver defenseman Dan Hamhuis was assessed a tripping penalty before captain Henrik Sedin picked up an extra minor for unsportsmanlike conduct protesting the original call.
The Sharks controlled the puck for 90 seconds on the two-man advantage before Pavelski's shot from the side of the net deflected off Vancouver forward Nick Bonino's stick and past Miller for his 28th.
Niemi didn't have much to do despite Vancouver's 21 shots through two periods. He did make a nice save off Bonino's deflection five minutes into the second period with the Sharks still up 1-0.
Niemi made a great bad save on Vrbata's breakaway early in the third, and Tierney tipped home his first NHL goal moments later to make it 4-0.
Vrbata then broke Niemi's shutout bid with his 20th of the season with under two minutes. Desjardins rounded out the scoring with his third of the season with 4.7 seconds left.
Despite playing the second portion of back-to-back matches and their fourth game in six nights, the Sharks dominated in the first period. They led 1-0 after 20 minutes thanks to Irwin's fourth of the season that sneaked into the top corner through a screen.
San Jose outshot Vancouver 11-2 in the game's first six minutes, and if not for some great saves from Miller early on the Canucks' deficit could have been much worse.