Arizona hands off Super Bowl to Las Vegas
PHOENIX - Las Vegas is officially on the clock when it comes to hosting the next Super Bowl.
A day after the Kansas City Chiefs defeated the Philadelphia Eagles in Super Bowl LVII at State Farm Stadium in Glendale, a news conference was held on Feb. 13 to officially hand off hosting duties to Las Vegas.
As the Arizona Super Bowl Host Committee handed over the football to Las Vegas officials, they had a message for future Super Bowls in Arizona – "We're ready when you are."
Super Bowl LVIII will be held on Sunday, Feb. 11, 2024, at Allegiant Stadium in Sin City.
When with the big game be back?
The entire state of Arizona is basking in the glow of having a world-class event like the Super Bowl being executed so well – and the big question looming this Monday after the big game – when can we host another one?
Some are already saying Arizona should easily score another big game.
Sam Cooke travels to Super Bowl games with Minnesota Vikings fan club, Viking World Order, and says Arizona earned another chance to host soon.
No chance within the next two years though. New Orleans will host in 2025.
So, when could Arizona see another one? Arizona political leaders and Arizona Cardinals owner Mike Bidwill will be leading the team effort to land another big game. Cooke believes the lobbying has already begun.
More Super Bowl headlines
Tune in to FOX 10 Phoenix for the latest news: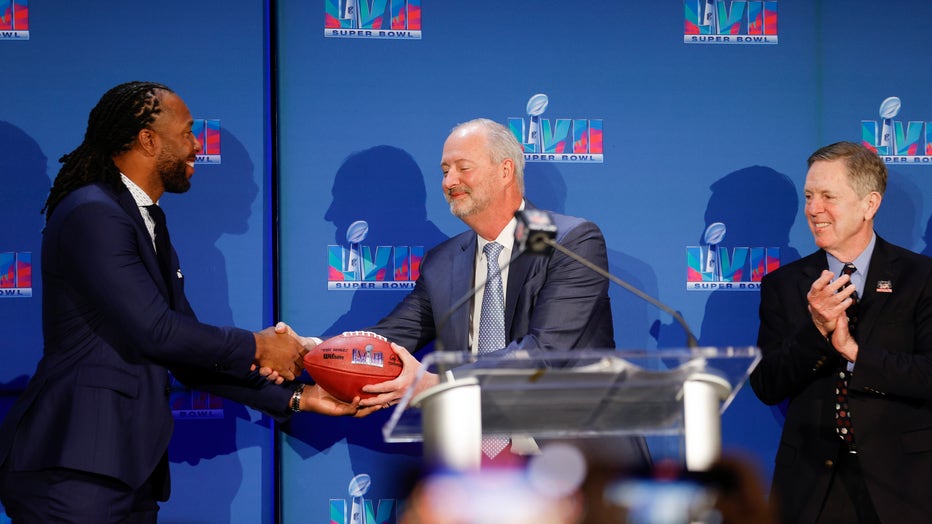 PHOENIX, ARIZONA - FEBRUARY 13: Steve Hill is handed the ball from Larry Fitzgerald during the Super Bowl LVII Host Committee Handoff Press Conference at Phoenix Convention Center on February 13, 2023 in Phoenix, Arizona. (Photo by Carmen Mandato/Getty Images)