A's lefty Manaea pitches no-hitter vs streaking Red Sox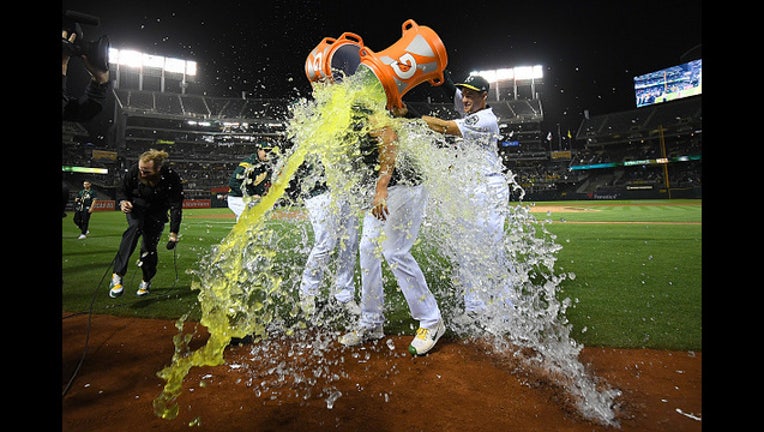 article
OAKLAND, Calif. (AP) -- Sean Manaea might've been the only person at the Oakland Coliseum who didn't realize he was still working on a no-hitter.
 
After a dropped popup in the fifth inning, the Athletics lefty figured it was over.
 
"I didn't even think about it until I looked up in the seventh or eighth," Manaea said, "and I was like, `Oh my God, why is there still a zero on there?"'
 
Because it was ruled an error. And because his shot at history remained intact.  
 
Manaea became the first pitcher to throw a no-hitter against Boston in almost exactly 25 years, with an overturned call on the bases preserving the gem Saturday night in Oakland's 3-0 win over the sizzling Red Sox.
 
Manaea struck out 10, walked two and threw 108 pitches to finish off Oakland's first no-no since Dallas Braden tossed a perfect game against Tampa Bay in 2010.
 
Manaea got Hanley Ramirez to ground out to complete the first no-hitter versus the Red Sox since Seattle's Chris Bosio did it on April 22, 1993.
 
"I just telling myself, keep everything the same, and not let anything get too big for me," Manaea said.
 
Boston looked as if it had a hit with two outs in the sixth at the Oakland Coliseum. Andrew Benintendi hit a grounder to the right side, tried to dodge a tag by first baseman Matt Olson and was called safe.
 
Benintendi ran onto the grass in foul territory to get around Olson. The umpires then conferred and, without going to replay, ruled Benintendi was out for going wide of the baseline.
 
"Do I agree with it? No," Red Sox manager Alex Cora said. "It is what it is." Said Benintendi: "It's just a missed call."
 
"I think if we have 10 hits at that point, that's a single. But the situation the game was in, they might have been searching for something and they found it," Benintendi said.
 
Crew chief Brian Gorman said the umps reached their decision "pretty fast."
 
"If he goes more than 3 feet avoiding the tag, he's declared out," Gorman told a pool reporter. "He was more than 3 feet away."
 
Sandy Leon reached in the Red Sox fifth when A's shortstop Marcus Semien ranged into shallow center field and dropped a popup trying to make an over-the-shoulder catch. The play was scored as an error.
 
"I was running back and I heard (center fielder Mark) Canha was yelling, `Marcus, Marcus,' and I thought he said, `I got it,"' Semien said, "but I still think I should've caught the ball."
 
"Usually I don't want to make errors, but in that situation you take the error," he said.
 
In Manaea's mind, it was a single.
 
"I just thought it was a hit, so from there until the eighth or ninth, I thought it was just a one-hitter," Manaea said.
 
A few innings later, he noticed what everybody else already knew -- no-hitter in progress.
 
"So after that, my adrenaline started pumping a little bit again, and I really wanted to finish this thing out," he said.
 
Manaea (3-2) had been battered by Boston in three previous starts, going 1-2 with a 13.50 ERA.
 
But the 26-year-old cooled off a Red Sox team that had won eight in a row and 17 of 18. Boston began the game with a major league-best .293 batting average.
 
"Congratulations Sean Manaea, you were really good tonight bro," Ramirez tweeted. 
 
Manaea retired 14 straight batters after walking Mookie Betts leading off the game.
 
A lot of Red Sox fans were in the announced crowd of 25,746, and many rose to their feet when Manaea took the mound in the ninth.
 
Betts hit a ball to the warning track with one out in the ninth. After Benintendi walked with two outs on a full count, Ramirez hit a grounder to Semien for an easy force play at second.
 
"My heart was beating out of my chest and I was trying to do everything I could (to stay calm)," Manaea said before he was interrupted by teammates who smeared celebratory shaving cream in his face, dumped water and Gatorade on his head and left him with a plastic bubble gum tub for a hat.
 
Drafted by Kansas City, he was traded to Oakland in July 2015 in a deal for Ben Zobrist. Manaea had shoulder problems last season that landed him on the disabled list and limited his effectiveness.
 
"I've caught a lot of great pitchers in this game," A's catcher Jonathan Lucroy said. "I have eight years in the (majors) and that was most well-pitched, well-executed game I've ever had behind the plate."
 
"I mean, they were all messed over there, they had no idea," he said.
 
It was the 12th no-hitter by the Athletics franchise and the 12th thrown against the Red Sox.
 
This was the first no-hitter in the majors since Miami's Edinson Volquez pitched the only one of the 2017 season against Arizona on June 3.
 
Chris Sale (1-1) struck out 10 and gave up three runs on six hits and one walk in seven innings.
 
STAT STUFF
 
Manaea pitched his first complete game in 58 big league starts. He improved to 22-21 in his three-season career.
 
TRAINER'S ROOM
 
Red Sox: SS Xander Bogaerts (left ankle) will play for Triple-A Pawtucket on a rehab assignment on Tuesday and Wednesday. If all goes well he'll be activated when the team opens a six-game homestand on Friday, Cora said. . RHP Steven Wright (left knee surgery) left a rehab game at Triple-A Pawtucket on Friday with back tightness. . RHP Tyler Thornburg (right shoulder surgery), who's at the team's extended spring training facility in Fort Myers, Florida, will join the team on Friday and could throw batting practice, Cora said.
 
Athletics: RHP Yusmeiro Petit was activated from the family emergency list on Saturday. . RHP Josh Lucas was sent to Triple-A Nashville in a corresponding move. ... RHP Paul Blackburn (right forearm strain) threw on flat ground for a second straight day on Saturday, but the A's haven't established a timetable for his return, manager Bob Melvin said.