A's take hard-luck 2-0 loss despite allowing 1 hit to Angels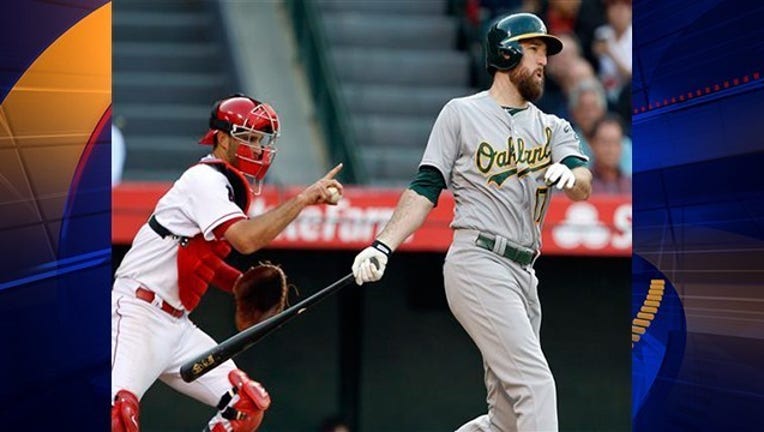 article
ANAHEIM, Calif. (AP) -- After the Oakland Athletics' staff combined to throw a one-hitter and the offense pounded out eight hits against the Angels' stellar pitching, Bob Melvin couldn't find many reasons to be angry.
The manager found ample reason to be frustrated when a .500 road trip had an improbable finish.
Nick Tropeano pitched five-hit ball into the seventh inning, and Kole Calhoun's two-run homer was Los Angeles' only hit in a 2-0 victory Thursday night.
Calhoun homered in the third, and four pitchers combined on an eight-hit shutout that allowed the Angels to salvage a split in the four-game series with their upstate AL West rivals.
"I can't remember the last time we got beat by one hit," Melvin said.
Oakland hadn't lost a game while giving up only one hit since April 14, 1992, at Kansas City. Melvin was a backup catcher for the Royals that year.
Tropeano (1-0) was impressive in a spot start, yielding one walk and striking out five less than 48 hours after learning he was headed to the majors.
He was nearly matched by Jesse Chavez (0-1), who gave up one hit and three walks in six innings during his first start of the season.
But that hit was costly: Calhoun drove a one-out pitch to right after Drew Butera reached on Brett Lawrie's throwing error.
"I just tried to crisscross in and out with him and try to let him get his hands extended, but the ball was a little bit up," Chavez said. "But you live and learn."
Chavez began the season in Oakland's bullpen, but largely mowed down the Angels in his return to the rotation. After the rocky third that included two walks, he retired his final nine batters.
"To give up one hit on a moment's notice to make a start, I don't know how you can ask much more than that," Melvin said.
Tropeano left to a standing ovation after Josh Reddick's leadoff single in the seventh. Fernando Salas escaped the jam with two runners on, and Joe Smith narrowly got out of the eighth when Calhoun tracked down Reddick's drive to the right-field wall with two on.
Huston Street pitched the ninth for his fifth save, though he allowed his first baserunner of the season on Marcus Semien's two-out infield single. Collin Cowgill made a sprinting catch in foul territory to end a frustrating day for Oakland, which finished 5-5 on its road trip.
The Angels didn't have a baserunner after the third inning, but won with just one hit for the third time in franchise history, the first since June 16, 1986.
"Two runs, but that's all the pitching staff needed," Calhoun said. "That's huge for us. Today is really all about the pitching staff."
SHORT RETURN
Ben Zobrist fouled out to end the game, also ending his 18-game hitting streak against the Angels. He didn't play in the first three games after getting a cortisone shot in his left knee. He isn't sure how much he'll play this weekend at the Coliseum.
"I did some running, took some ground balls and took batting practice on the field," Zobrist said. "I think I ran up to about 80 percent straight ahead. We didn't do a lot of cutting or anything like that. I'm encouraged by the way it felt today. I don't know yet what the plan is ... but the big thing is, how is it going to feel when I get up tomorrow? If it feels sore, we may need to just kind of evaluate as the day goes on."
TRAINER'S ROOM
Athletics: Chavez got the start in place of Jesse Hahn, who has a blister.
Angels: Wilson's scheduled start was pushed to Saturday. The left-hander doesn't expect his elbow to be a problem this weekend or long-term.
UP NEXT
Athletics: Scott Kazmir (2-0, 1.33 ERA) takes the mound when Oakland returns home against Dallas Keuchel and Houston.
Angels: Garrett Richards (0-1, 5.40 ERA) makes his second start of his comeback from surgery when the Angels open a three-game home series against the Texas Rangers.