At 72, Brazilian stars celebrate half-century of friendship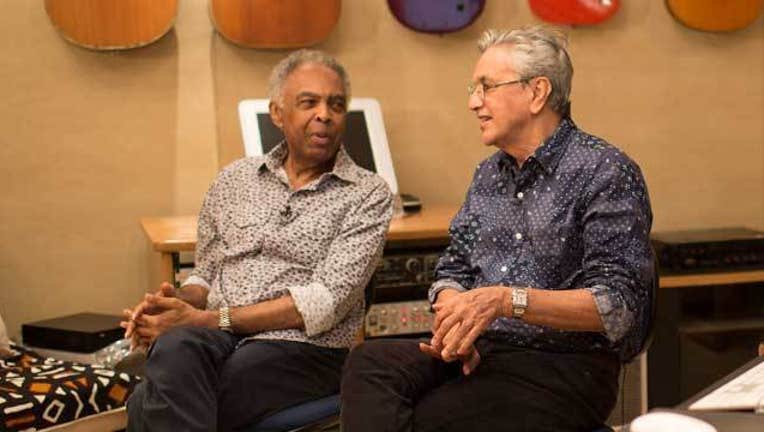 article
RIO DE JANEIRO (AP) — A university student by the name of Caetano Veloso struck up a conversation one day with a fellow student, a budding musician with a local TV gig. It was a chance encounter that helped change the face of Brazilian music and launched a friendship that has continued for more than half a century.
Veloso says he might not even have become a musician if it weren't for the influence — and guitar lessons — of Gilberto Gil.
As close as brothers, the two have helped one another make the most of the limelight since that encounter in 1963 in the colonial city of Salvador, coming together periodically to write songs, produce one another's albums or perform. The two 72-year-olds are continuing that relationship with a joint tour of 10 European countries from June 25 to Aug. 2.
At a rehearsal Wednesday in Gil's Rio de Janeiro studio, the two seemed almost like twins: Small and thin and strikingly handsome, they were dressed in similar blue and white button-down shirts, often said the exact same phrases at the same time and were constantly finishing — or, sometimes, correcting — one another's sentences.
Without Veloso, Gil said, "I would have been a very different artist than the one I became."
"Without him," Veloso said, "I might not have done music."
Together, they spearhead the avant-garde tropicalia movement, a musical revolution that challenged Brazil's1964-85 military dictatorship and helped secure the country's privileged place on the world music map. Their politically tinged songs, with far-out aesthetics and eclectic sounds, blended elements of traditional Brazilian music with rock and roll. It also landed them in prison for two months, under house arrest for four and then got them exiled to London for around three years.
They lived together in Britain, cementing their ties by marrying sisters. And though those marriages are both ancient history, the two say they continue to regard one another as family.
Their careers have taken very disparate turns. Gil served as culture minister for five years under former President Luiz Inacio Lula da Silva. Veloso starred in Spanish director Pedro Almodovar's 2002 hit "Talk To Her." But both continued to churn out album after album, and they've kept gravitating back together.
"Friendship is about choice. You pick, you select," said Gil, who won a Grammy in the world music category in 2005. "In our case it's all about that. We like to be friends. We've chosen to be friends."
"We've never really fought," said Veloso, in his hallmark, gentle sing-song timbre. "When we get together to collaborate, there's no tension."
During their European tour, the pair will be on stage all alone: Just two men, each with his guitar. Between them, Gil and Veloso have released more than 80 albums and they said the bulk of the concert playlist will likely be pulled from that extensive repertory, though they may also compose some new tunes, should inspiration strike.
They don't compose according to any established pattern. Sometimes Gil writes the lyrics, sometimes Veloso does. Sometimes one writes the music alone, other times they conjure it together. That's pretty much always how it's worked, they said.
One thing has changed with age: their bodies. Fans hoping to see them tearing around the stage like a pair of hyped-up Energizer bunnies as they did well into their 60s will be disappointed.
Both have been banned from jumping on doctor's orders, Veloso because of a herniated disk, Gil due to a torn retina suffered during a particularly jarring jump at the Rock in Rio music festival.
"I had to put silicone in my eye, but just in my eye," Gil said with a chuckle. "All of that because of my hopping."
But as long as they do quieter, more meditative shows, there's no saying how long they may keep touring.
"Travelling is more tiring than playing. The problem isn't the concert. The problem is the airport," said Veloso.
Asked whether retirement was on the horizon, he responded, "I never thought about it."