BART crews making sure emergency lights work at all stations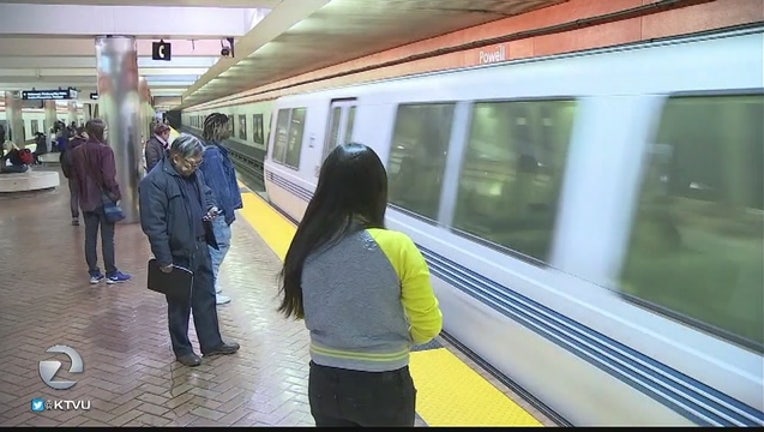 article
OAKLAND, Calif. (KTVU) - By Bay City News Service
BART officials said today that they've taken steps to make sure that all of their stations have operating emergency lights in the wake of recent power outages that left two stations without electricity for a short period of time.
The transit agency said that an inspection it conducted after the recent outages determined that emergency lights weren't working at 14 of its 46 stations.
BART officials said temporary emergency lighting was immediately installed in stations until permanent fixes can be made.
The purpose of emergency lighting is to allow safe evacuation of stations in the event of a power outage, BART officials said. Stations can only be reopened after power is restored or generators are hooked up.
On April 22, a PG&E outage impacted San Francisco, causing a loss of power to BART's Montgomery Street station.
The power outage didn't impact trains because trains are powered from a different electrical grid, but station lighting and equipment inside the station, such as escalators, elevators, and ticket vending machines, lost
power, BART officials said.
On April 27, an early morning PG&E issue before BART service began resulted in an outage at the Richmond station, knocking out lighting both within the station and parking lot, according to BART.
No injuries were reported in the two incidents.
BART officials said they conducted thorough inspections of all station emergency lighting, taking corrective action where needed to ensure all stations have emergency back-up lighting systems in place.
Those back-up systems include batteries and an inverter, or an uninterrupted power supply system, which are now being tested monthly to ensure continued proper function.
"The fact both stations experienced a failure in the emergency back-up system was extremely troubling," Paul Oversier, BART's assistant general manager of operations, said in a statement.
"These systems should activate in the event of a power outage, and, despite our maintenance program and frequent testing, failed to do so. We immediately launched an investigation and ordered a robust district-wide
inspection of all related systems," Oversier said.
On April 28, the day after the Richmond outage, BART initiated an investigation into the condition and functionality of emergency lighting systems at all stations.
The transit agency said all stations have been thoroughly assessed and corrective actions have been taken to ensure all stations have functioning emergency lights.
BART officials said that in addition to inspecting, testing, and replacing emergency power systems at all stations, they have also addressed deficiencies in record-keeping procedures and processes.
In terms of long-term upgrades, BART officials said plans are underway to replace emergency power systems at stations.
Emergency lighting and related power systems for stations were identified as a priority upgrade to be paid for with $27 million in funding from Measure RR, a $3.5 billion regional bond measure that was approved by
Bay Area voters in November.