Bay Bridge reopens hours after big rig overturns
SAN FRANCISCO - All eastbound lanes of the San Francisco-Oakland Bay Bridge reopened Tuesday after a big rig overturned hours earlier
California Highway Patrol said the truck overturned on the eastbound lanes of the Bay Bridge during the latest atmospheric river. 
The law enforcement agency alerted on social media at around 4:30 p.m. that the truck rolled over just east of the 1st Street on-ramp. Four left eastbound lanes were initially blocked. Drivers dealt with major delays and were outright asked to use alternate routes during the evening commute. 
The rollover happened just before Treasure Island. CHP reported there were injuries, but did not have further details. There was no word on what exactly caused the big rig to rollover, but the inclement weather was likely the culprit.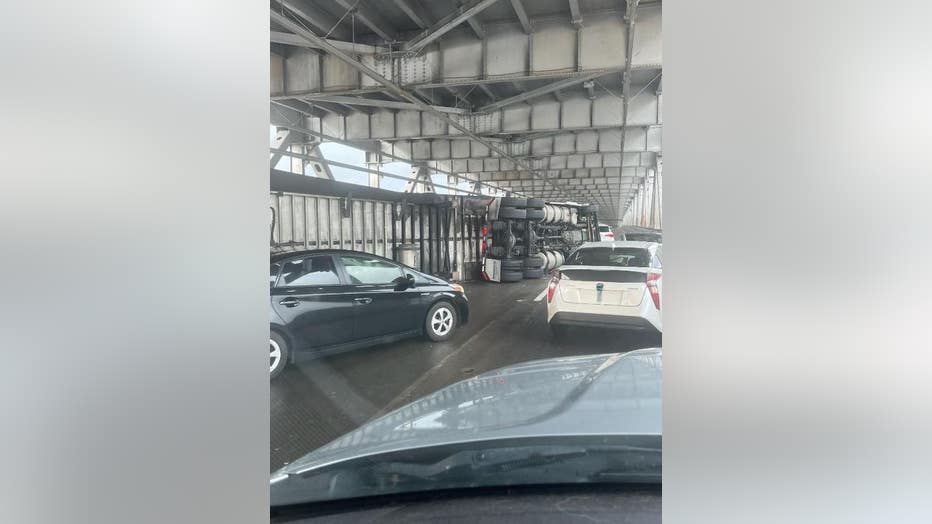 Big rig overturned on Bay Bridge during an atmospheric river on March 21, 2023. 
CHP at one point said, "Please do not attempt to cross the San Francisco-Oakland Bay Bridge at this time. There is not sufficient clearance for any trucks to pass the overturned truck & it will only create further congestion."
San Francisco Fire Department tweeted photos of a tow truck responding to the rollover at around 5:20 p.m. 
By 6:23 p.m., two of the lanes reopened as emergency crews continued to work to clear the lanes and get traffic flowing freely again. About an hour later, a second tow truck arrived at the scene. 
The big rig was finally cleared at around 8:30 p.m. 
Despite the lanes being reopened, drivers still had delays to deal with. A KTVU reporter was driving where I-80 and 101 meet in San Francisco leading up to the Bay Bridge and shared video of the flooded freeway. 
The latest storm is wreaking havoc, once again, throughout the Bay Area. Many trees are coming down from the saturated soil and high winds. 
SEE ALSO: Deadly Bay Area storm knocks out power for 100,000, blows window out of SF high rise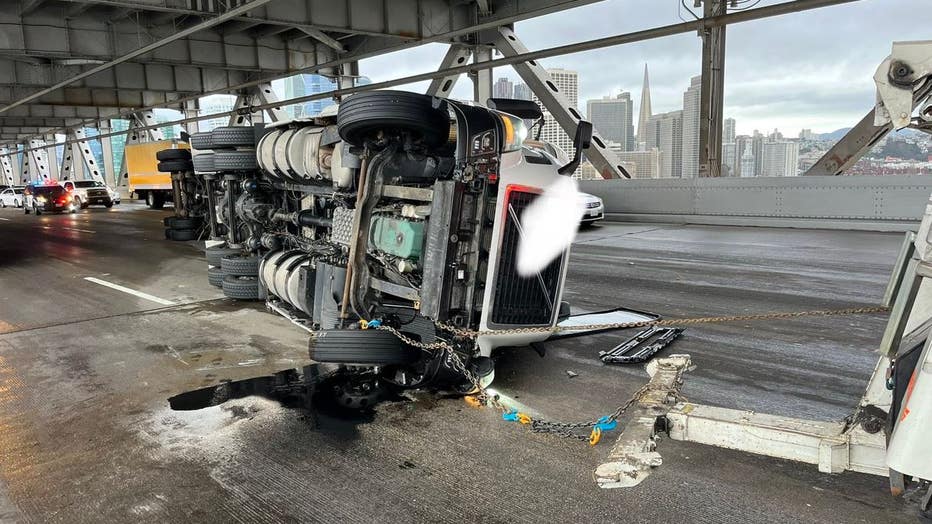 A tow truck is responding to an overturned big rig on the Bay Bridge during an atmospheric river. March 21, 2023.