Bears open Pac-12 tournament with 84-59 win over Cougars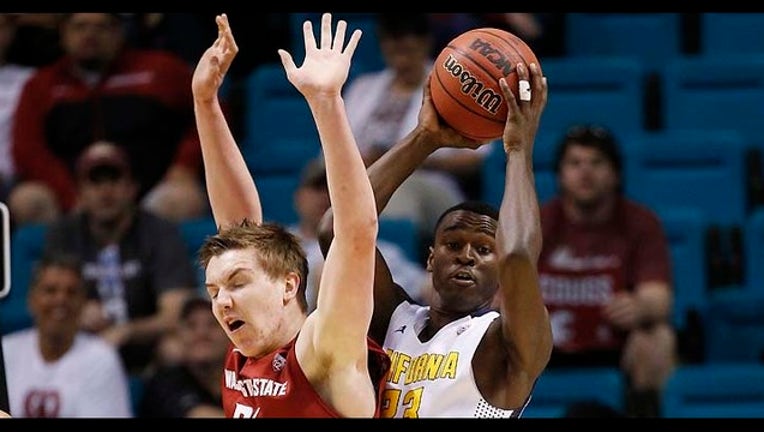 article
LAS VEGAS (AP) -- David Kravish had 25 points and eight rebounds, lifting California to a dominating 84-59 win over Washington State in the opening game of the Pac-12 tournament on Wednesday.
Cal (18-14) turned a close game into a rout with an impressive shooting display, hitting 14 of 15 shots spanning halftime to build a 17-point lead.
The eight-seeded Bears shot 58.5 percent overall and went 8 of 12 from 3-point range to earn a spot in Thursday's quarterfinals against No. 5 and top-seeded Arizona.
Jordan Mathews had 19 points and Tyrone Wallace added 12 for California.
Washington State (13-18), the tournament's No. 9 seed, struggled defensively and failed to hit a 3-point shot until late in the second half.
Ike Iroegbu led the Cougars with 17 points. Leading scorer DaVonte' Lacy was held to 9 points on 4 of 11 shooting and struggled with emotions on the bench after his final game.
Both teams had tough first seasons under new coaches.
Cal got the season off to a good start under Cuonzo Martin, going 10-3 in non-conference, then lost six of its first seven Pac-12 games. The Bears put together a five-game winning streak, but followed that by losing five of their final six.
Washington State wasn't quite as streaky under coach Ernie Kent and had some solid wins, including Oregon. There also were some difficult losses that led to a ninth-place finish in the Pac-12.
The Bears and Cougars split two games during the regular season, each winning on the road.
In the tournament opener, Cal repeatedly found holes in Washington State's interior defense, setting up easy baskets around the rim.
Kravish did the most damage, hitting his final four shots after missing his first six to finish with 10 points and seven rebounds by halftime. Cal hit 14 of 28 shots and led 37-26 after Jabari Bird hit a 3-pointer in the closing seconds.
The Bears also effectively harassed Lacy, holding him to two points on 1 of 3 shooting.
Cal continued to shoot well at the start off the second half, hitting its first five shots to push the lead to 47-30 in the opening 4 minutes.
The Bears' hot shooting continued throughout the second half. Kravish had his way inside again, Matthews hit a pair of 3-pointers and Cal hit 17 of 25 shots to keep the lead well out of reach.
___
TIP-INS
Cal: The Bears had never faced Washington State in the Pac-12 tournament. ... Cal had a 37-22 rebounding advantage.
Washington State: The Cougars have not won a conference tournament game since 2009. ... Washington State shot 2 of 12 from 3-point range.
UP NEXT
Cal faces top-seeded Arizona in the tournament quarterfinals.
Washington State's season is over.