Books and braids encourages students to read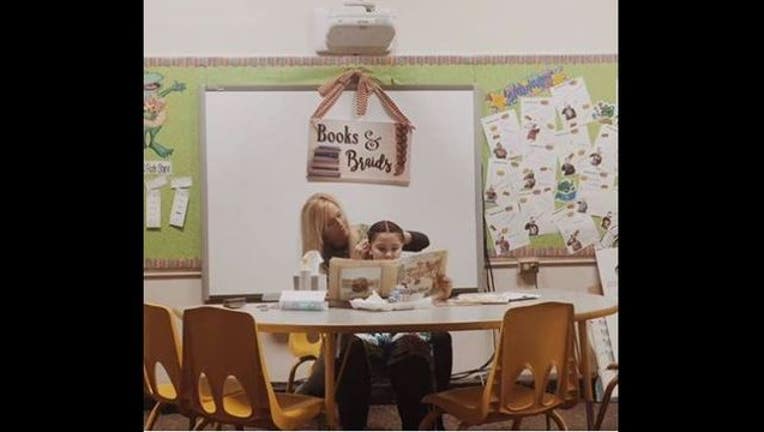 article
KTVU's Frank Somerville posted on his Facebook page about a teacher who is going above and beyond to get students interested in reading. 
He wrote:
"Another reason why teachers are worth their weight in gold. This is Sara Medalen. She's a teacher in Minot, North Dakota. And this is her "Books and Braids Salon."
The idea is to get her students interested in reading while she braids their hair. The students make an appointment with her before class. And after they check in at the "Salon", they read to her as she braids their hair.
Sara told me tonight: 'I just really believe that making a connection with students is the best way to help them learn. This special time I have with students is hopefully removing the stress of reading and changing it to a love for reading. No comprehension questions. No phonics lesson. No vocabulary lesson. I really take myself out of the teacher role since it is outside of school time and just listen, braid and chat with them a little bit.
My Dad always said if you love your job, you don't have to work a day in your life. He just passed away at the end of January and he would really be proud of all of this recognition. It's not about me, though, it's about the kids!
The kids are finding me in the halls and outside when I'm leaving school asking me if they can make an 'appointment' to get their hair braided.
They seem so confident after their appointment : )
I love that!
---Sara Medalen'
As I said at the top, I think teachers like Sara are worth their weight in gold.
And who knows, maybe her idea will catch on.
I hope so.
#RealPeopleRealStoriesRealLife."