Brian Kemp resigning as Secretary of State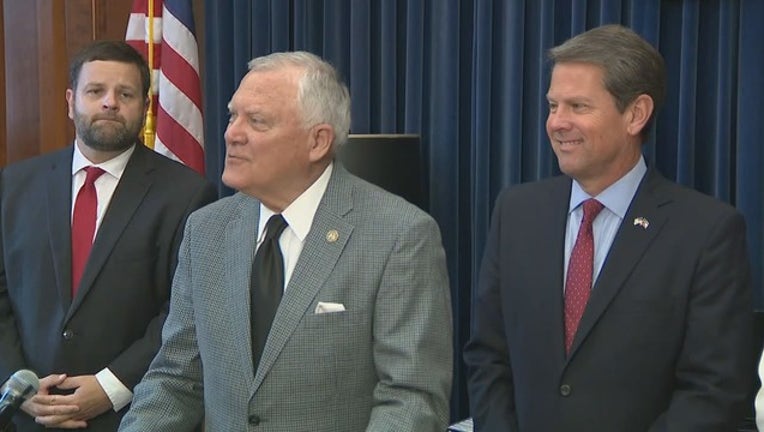 article
ATLANTA - Republican gubernatorial candidate Brian Kemp announced Thursday morning he is resigning as Georgia's secretary of state, one day after declaring victory over Stacey Abrams in the tight race for Georgia governor. 
Kemp made the announcement at a joint news conference with Governor Nathan Deal where the two discussed the transition process to the governor's office. 
"My transition team is experienced, diverse and ready for heavy lifting," Kemp said.
Kemp will step down as Sec. of State as of 11:59 a.m. Thursday. Governor Deal said Commissioner of the Georgia Department of Human Services Robyn Crittenden will serve as interim Sec. of State. 
"We deeply appreciate Brian Kemp's public service as Secretary of State. We will continue our work in this office on behalf of all Georgians," said Lorri Smith, Assistant Deputy Secretary of State and Chief Operating Officer. "We are excited to welcome Robyn A. Crittenden to the agency to serve as our Secretary of State."
At the news conference Thursday morning, Governor Deal referred to Kemp as Governor-elect, even though Stacey Abrams has yet to concede. Abrams, a Democrat, has consistently said she will not concede until every vote is counted, and those include absentee ballots and eligible provisional ballots. The Abrams campaign said there are at least 25,000 provisional and additional absentee ballots that have not been factored into the tally released late Wednesday.
MORE: Brian Kemp declares victory; Stacey Abrams isn't conceding
Abrams' staff said during a conference call with reporters that they are having a hard time getting exact numbers from the Secretary of State's office, and believe the remaining uncounted ballots might be from predominantly Democratic areas, but say Kemp's office has not provided a breakdown.
On Wednesday, Kemp's campaign adviser said the campaign was declaring.