Brouhaha brewing over smoke at popular Berkeley BBQ joint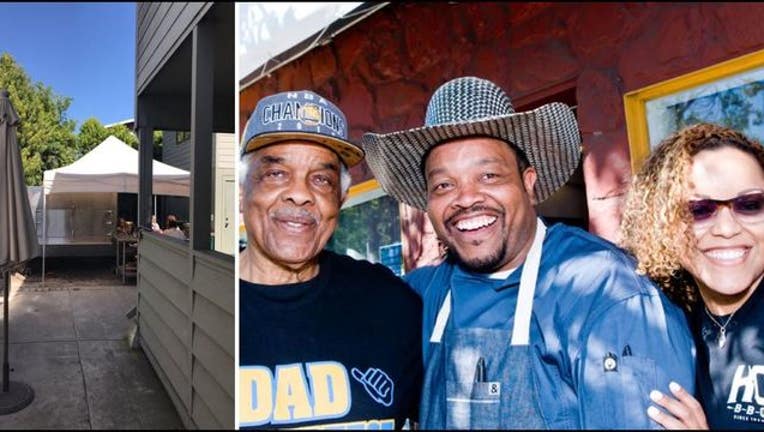 article
BERKELEY, Calif. (KTVU) - There's a brouhaha in Berkeley at a popular BBQ joint that's been in business since Lyndon B. Johnson was president. 
The specific beef? Some neighbors are describing an egregious amount of smoke billowing from the back of KC's BBQ on San Pablo Avenue. The smoke is so bad, according to a letter the neighbors wrote, that the smoker used to create the restaurant's pork, beef and chicken dishes have "gassed" the Kains Avenue residents "out of our homes." 
The letter, signed by 11 neighbors in October, also states that the residents closest to the restaurant's  smoker are "suffering burning eyes, coughing, severe headaches and other respiratory ailments, not to mention the necessity to frequently close our doors and windows and not be able to use our yards." 
Following the neighbor's complaints, the city of Berkeley's planning department issued a cease-and-desist letter to KC's BBQ in December, saying that the restaurant's permit explicitly stated that "the operation shall not create objectionable smoke or odor." The city said that failing to comply with the order could result in penalties ranging from $100 to $500 a day. 
Co-owner Kristen Davis, 30, disputes what the permit allows and her attorney has filed an appeal. A court date is pending.
However, Davis does acknowledge that there is smoke that flows out from the new $28,000 Fast Eddy's Cookshack FEC750 Rotisserie Smoker her family bought to cook with in the back of the restaurant. It's just that the smoke is not that bad, she insisted, and it's not all the time.
"I'm not denying the presence of a BBQ odor," Davis said. "However, the allegations that we are smoking them out of their homes and that they are suffering is outrageous." 
And so, she has refused to stop using the smoker to cook her grandfather's signature housemade pork and beef sausage links and beef brisket, despite the complaints and cease-and-desist order.
"We are a BBQ restaurant," Davis said. "That's like telling us we need to shut down."
Her grandfather, Vernell Davis, started KC's BBQ in 1968, and he and his family have been serving Kansas City-style meats ever since. He handed the business to his son, Patrick Davis, who now runs the restaurant with his daughter, Kristen Davis.
In February 2017, the former KC BBQ suffered a fire. And in June, the restaurant moved about a mile north of its former space to its current location, at 1235 San Pablo, in the former space of the now-closed Meal Ticket.
Davis said she never had a problem with smoke complaints in her old neighborhood. And she pointed out that her new smoker is much more efficient that the one she used to use. She has about 5,000 people behind her, who signed a petition for the city and the neighbors to stop harassing her restaurant. 
She said it seems to her as though her new neighborhood is less diverse and "less full of culture" as the restaurant's former location. 
Dean Wills, who moved into the neighborhood three years ago, disputes the notion that he doesn't appreciate culture. He said he supports the BBQ in theory, but living so close to the smoker is causing serious problems for him and his family. And he said he never wanted the city to issue an order to stop smoking altogether. But the smell of burning and the release of carbon into the air can be overwhelming, he said.
"It's horrible," Wills said. "It permeates everything in the house. Basically, it's like being at a tailgater." 
He lives on Kains Avenue, which butts up to the BBQ's smoker, and he said the back bedroom gets it the worst.
"The kids' bedding just smells like smoke," he said.
He said he has also tried to work with the Davis family, asking them if they could move the smoker indoors or buy an "afterburner," suggestions that Davis said either wouldn't work or would be too expensive. Still, she said, her family is more than willing to continue talking with the neighbors and the city to find some sort of fair resolution.
Wills conceded that the smoke isn't intense 24 hours a day, but "when it's bad, it's really bad," he said.