Bumgarner breaks pitching hand when hit by line drive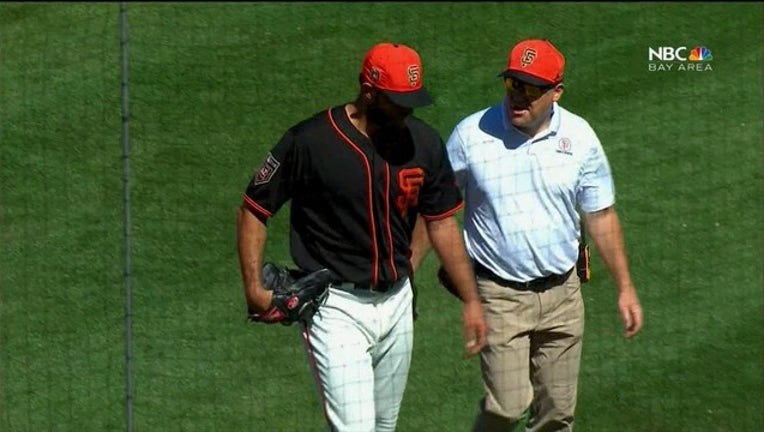 article
SCOTTSDALE, Ariz. (AP) -- San Francisco Giants ace Madison Bumgarner is hurt for the second straight year, breaking a bone in his pitching hand when it was hit by a line drive off the bat of Kansas City's Whit Merrifield during a spring training game on Friday.
The Giants said X-rays showed the 28-year-old fractured the fifth metacarpal on the outside of his left hand. Bumgarner said the timeline for recovery is four to six weeks and he will have a pin inserted into his pinkie Saturday. 
"It's tough. But I can handle it," Bumgarner said. "These guys can handle it. This obviously was not what I was expecting out of my last start. But it happened and I can deal with it."
Bumgarner, the 2014 World Series MVP, missed nearly three months last season with a shoulder injury after a dirt bike accident on April 20 during an off day in Colorado. This is a big blow for the Giants as they try to rebound from a surprising last-place finish in the NL West with 98 losses.
"It's just a downer. This was a short day. I feel for him," manager Bruce Bochy said. "Obviously, we know what he means to us, but where he was, how well he's thrown the ball all spring. Unfortunately, you've got to deal with these things. But this one certainly was a downer today because we were all getting ready to go to San Francisco and now we've got to make some adjustments."
After six straight seasons with double-digit wins, more than 200 innings and 30-plus starts, Bumgarner went 4-9 with a 3.32 ERA in 17 starts last season and threw just 111 innings.
Bochy wasn't ready to say whether right-hander Johnny Cueto would move into the No. 1 spot and pitch Thursday's opener at the NL champion Los Angeles Dodgers. Jeff Samardzija has a strained pectoral muscle that will shut him down for at least a week and likely force him to start the season on the disabled list.
"Everybody's been healthy. We talked about that. That setback with Samardzija, this is horrible news for us," Bochy said. "I have nothing else to say about it. It happened and there's nothing else we can do now except push on."