Bystander captures video San Jose police shooting man at taqueria
SAN JOSE, Calif. - San Jose police officials, Monday, said that two acts of violence downtown over the weekend, one of which turned deadly, are not connected.
In one incident, a bystander captured video of San Jose police shooting and injuring a man at a taqueria, whom they say was possibly wielding a gun.
A man with the social media handle Bay Mobbinn shared video with KTVU showing a brief clip of what happened outside the La Victoria restaurant located at 140 E. San Carlos Street near S. 4th Street at 3:11 a.m. Sunday.
A man was allegedly pointing a handgun at someone and an officer fired a shot at the suspect, police said.
San Jose police on Monday evening released stills from an officer's body cam video of what cops encountered.
The department confirmed that there was a fight and struggle over a handgun inside the restaurant and one of the men who "was holding the handgun at the time he was shot by one of our officers."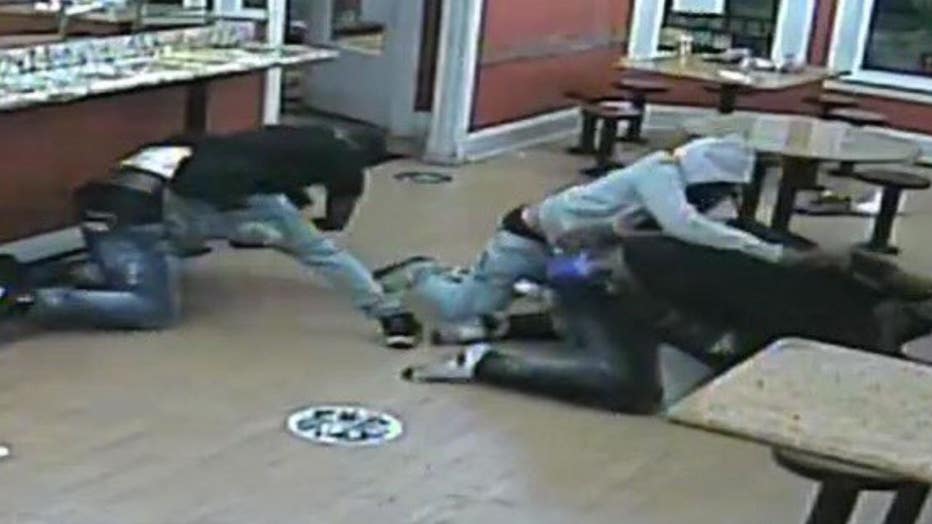 A fight over a handgun inside a San Jose taqueria left one person wounded after officers arrived and opened fire.
The bystander video shows five officers climbing up the stairs to the downtown restaurant with their guns drawn. A man is seen backing out of the restaurant. He then slowly turns around, slightly hunched over. He seems to tuck something into his clothing as officers yelled "don't move!" He turned around, and then police opened fire.
As many as three gunshots can be heard on the video, there were possibly more, but it isn't clear because of the commotion.
Onlookers can be heard saying, "Whoa!" "Chill" and "Hey, hey!" 
MORE: One dead after two separate shootings near San Jose State
Police confirmed that an "arriving officer discharged his weapon striking the suspect at least one time."
"What the f---?" someone yells in the crowd. Many bystanders stood on the sidewalk taking video. Another bystander repeatedly yells, "No!" after the hail of gunfire. 
The video does not show the man holding any type of gun; the clip is only 40 seconds long and is taken from outside the restaurant. However, the police department later released photos of a man holding what appears to be a handgun.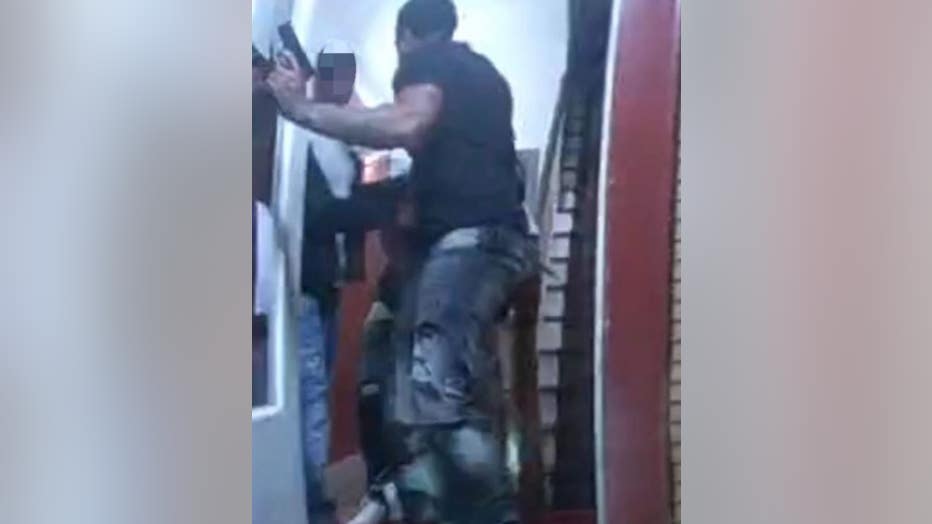 The man was wounded, police said, and is expected to recover. He was taken into custody on unknown charges. 
Other than that, police are being tight-lipped about the taqueria shooting. 
Neighbor Jose Chavez recently moved into an apartment across the street from the restaurant.
"Kind of saw like, hearing a lot of those commotions other there and that's when I heard gunshots. And I was like, 'oh shoot,'" he said.
"It's all gonna come from the chief. When we have an (officer-involved shooting) OIS, he gives the full briefing and breakdown. Which you will all get," said Sgt. Christian Camarillo of the San Jose Police Department.
Less than 30 minutes before the officer-involved shooting, San Jose police were called out at 2:45 a.m. to South Fourth Street north of San Carlos street to investigate the city's fourth homicide this year. Though it was around the corner from the second shooting, police said it is unrelated to the taqueria incident.
Nearby San Jose State University sent out multiple text alerts notifying students – who began Spring Break this week – of the trouble. 
"I heard the shots fired. There were about two shots fired," said one man who didn't want to be identified. "And…I saw the victim was on the ground. Fire department was around him, but they weren't giving him CPR because he was already passed away."
Investigators said the shooting suspect ran onto the college campus, and is still at-large. They do not have a motive or suspect description. 
"We did have a lot of officers out there on the weekends. We do believe this was an isolated incident," said Camarillo.
Still, some residents are shaken by the two shooting scenes feet from their homes, and the possibility Downtown isn't as safe as it appears.
"Daytime's okay. Morning all that. But nighttime not anymore. Especially when I want to go out. Since this happened, it's not safe at all," said Chavez.
Neither the identity of the officer-involved shooting suspect nor the homicide suspect have been released.
The Santa Clara County Medical Examiner's Office has not yet released the name of the homicide victim.