Caldor Fire remains a threat against Tahoe region
SOUTH LAKE TAHOE, Calif. - The Caldor fire continues to methodically burn its way toward South Lake Tahoe.
But that was not the sole focus of the firefight Saturday.
Saturday it surpassed 150,000 acres, and containment was last marked at 19%.
While the threat of the fire encroaching into south Lake Tahoe is still a big concern, it's far from the only area under threat.
The 150,000 acre plus swath of Caldor is slowly spreading in nearly every direction.
Cal Fire says its Saturday priority is an area on the west side of Division D, near Sly Park Road, south of Jenkinson Lake.
"Yesterday, that area spotted on us and came out of our control lines.
We worked all through the night last night. We were able to pick up control, get lines, established all around this again in a little bit bigger of a box," said Erich Schwab - Cal Fire Operations Section Chief.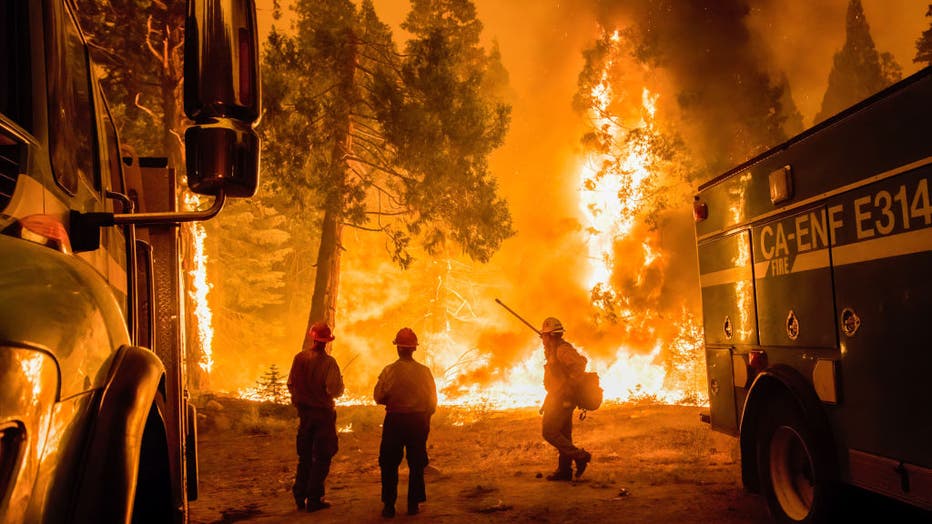 STRAWBERRY, CALIFORNIA, UNITED STATES - 2021/08/26: View of burning trees as the Caldor Fire grows to the Tahoe basin. The Caldor fire has grown to over 130,000 acres and threatens to grow to the Tahoe basin. These images where taken at a backfire se
On the southwest side, firefighters worked to clear brush around properties near Mt. Aukum, where a worker at the General Store told us an evacuation warning could soon become an order.
"I'm concerned, yeah, I just lived down the road about five minutes and yeah, my car is loaded up ready to go. Everybody around here is," said Whitney Aguirre.
Another priority is the eastern side, Division J, where firefighters are trying to keep the blaze west of highway 89, to protect communities like Christmas Valley and Myers.
Communications professional Kevin "Coop" Cooper and his neighbors in Myers are making difficult decisions as they anticipate a possible evacuation.
"There's a lot of stuff to sift through when you start thinking about what you need to take because it might be the last time you see your house," said Cooper.
Saturday humidity levels remained in the low to mid-teens, with favorable winds that are expected to increase into Sunday, which may translate into firefighters having to push that much harder to prevent the fire from picking up its pace as it moves in the direction of Lake Tahoe.
"Still a lot of work, a lot of challenges and complexities on this fire, but we are starting to make good progress," said Schwab.
As firefighters continue to battle the fire from both the air and ground, Highway 50 remains closed, with no foreseeable date of reopening.