California attorney general warns about sale of wild horses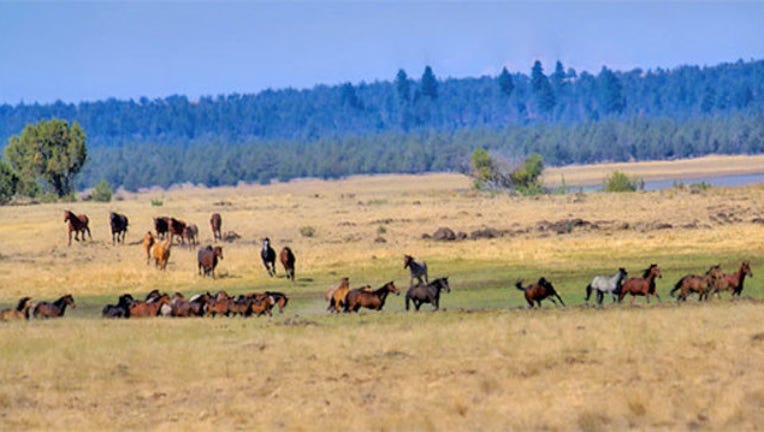 article
OAKLAND, Calif. - California's attorney general says federal officials who want to offer hundreds of wild horses up to slaughterhouse buyers would be breaking state law if they put the animals up for auction.
Over the last month, the U.S. Forest Service has been rounding up wild horses from an overgrown herd in the Devil's Garden Plateau Wild Horse Territory inside the Modoc National Forest in northeast California. The territory is supposed to have up to 400 horses but the herd had grown to almost 4,000 animals.
Last week, Modoc announced the horse capture had ended with a total of 932 horses rounded up. Some of the horses will be available at an adoption event Friday and Saturday.
But California Attorney General Xavier Becerra said it is his understanding that the U.S. Forest Service has a plan to sell the older horses to anyone who wants them, including slaughterhouses, after Jan. 10, 2019.
Becerra said that is troubling because "California law prohibits the possession or sale of horses with the intent of using them for human consumption." Breaking that state law is a felony with a potential penalty of up to three years in prison.
The U.S. Department of the Interior oversees most of America's wild horses and burros and prohibits selling them to slaughterhouses, but the Forest Service is underneath the U.S. Department of Agriculture, which has no such restriction.
The American Wild Horse Campaign (AWHC) says the government is "exploiting a legal loophole" that will result in the slaughter of hundreds of animals.
The AWHC says an estimated 300 animals will be made available for sale without limitations for $1 each, "allowing kill buyers to purchase a truckload of 36 horses once a week until they are gone."
In a stern letter to U.S. Department of Agriculture Secretary Sonny Perdue and Chief of the U.S. Forest Service Vicki Christiansen, Becerra warned that selling the state's wild horses for slaughter violates the law. 
"To slaughter for commercial consumption mustangs that have roamed California for over a century is not only atrocious, but unlawful," said Becerra. "These majestic animals captivate the imagination and symbolize the rugged independence of the American West.
An email to the Forest Service requesting comment was not answered. 
The Associated Press contributed to this report.