California delays plan to replace statue of soon-to-be saint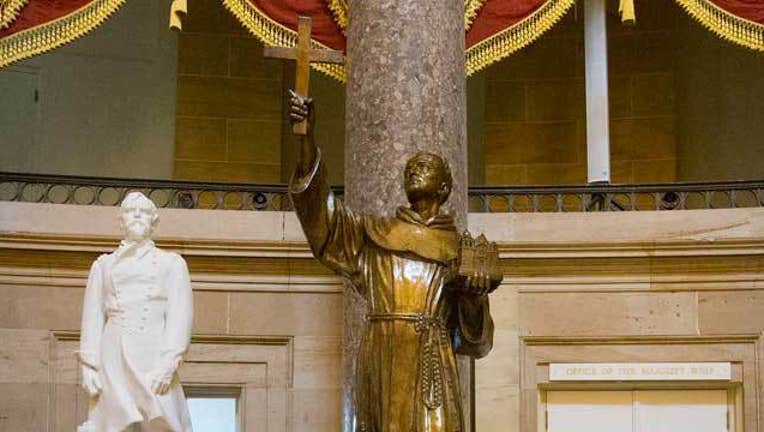 article
SACRAMENTO, Calif. (AP) -- A California lawmaker announced Thursday that he is delaying a plan to replace a statue of the missionary Rev. Junipero Serra with a statue of astronaut Sally Ride in the U.S. Capitol, succumbing to criticism from Roman Catholics ahead of Pope Francis' planned visit to the United States in September.
 
Sen. Ricardo Lara, D-Bell Gardens, announced he would postpone his efforts until after the pope's visit, when he plans to make the 18th century missionary a saint. The California Catholic Conference welcomed his decision after pushing for a delay until after the canonization. 
 
"It is always a momentous occasion when world religious leaders visit our country," Lara said in a statement released by his office. "There is no doubt that Pope Francis' visit this fall will provide a much needed space for introspection for many Americans during this critical time."
 
Serra, a Franciscan missionary and theology professor by training, in 1767 was tasked with expanding the Catholic mission system from Baja California in Mexico into what is now the state of California. In 1769, he established his first mission in San Diego and ultimately founded eight of California's 21 missions 
 
Native Americans contend that Serra brutally converted indigenous people to Christianity, wiping out villages in the process. They have supported removal of the statue and opposed his canonization.
 
"He didn't do it physically by hand, but he knew his soldiers were dirty," said Ron Andrade, a member of the La Jolla Indian Reservation and director of the Los Angeles City and County Native American Indian Commission.
 
"He forgave every priest, every violation, every rape, every murder."
 
Catholic groups have said Serra is a crucial part of early California history, and said it would be disrespectful to consider booting him from the nation's capital amid his elevation to sainthood. 
 
"Debating such a bill just before the Pope's visit would have conveyed a terrible message to him and millions of Catholics around the world, contradicting California's reputation as a tolerant and welcoming place for all people," Sen. Patricia Bates and Assemblyman Bill Brough, Republicans whose districts include the San Juan Capistrano mission established by Serra, said in a joint statement. 
 
Lara has said his resolution to replace Serra for Ride was about honoring the first American woman in space's scientific achievements and having California's first woman in National Statuary Hall. He is open to relocating the Serra statue in a prominent location in California. Another statue of Serra is on state Capitol grounds in Sacramento. 
 
Lara must wait until 2016 to try again to replace statues. 
 
LGBT groups have also supported a statue for Ride, who would be the first known gay person honored in Statuary Hall after her 2012 obituary revealed a longstanding relationship with a woman. 
 
Each state can place up to two statues in the Capitol. California replaced its other statue of traveling preacher Thomas King with Ronald Reagan in 2009. A change requires approval from the governor, architect of the Capitol and the Joint Committee of the Library of Congress.