California Senate approves sweeping gun-control measures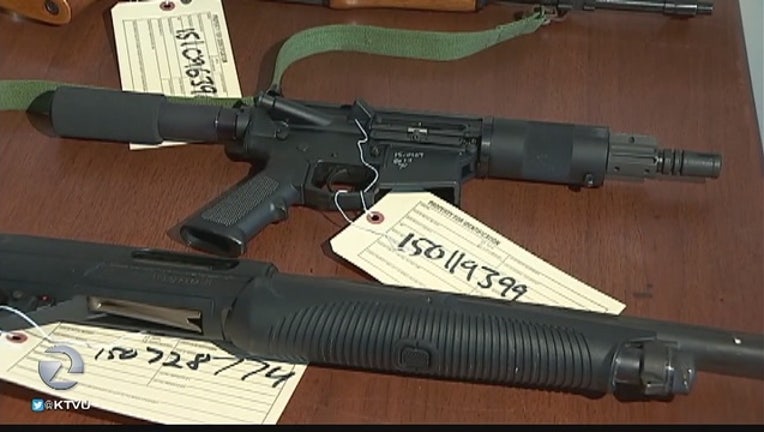 article
SACRAMENTO, Calif. (AP) — Democrats in the California Senate made another attempt Thursday to outlaw the sale of assault weapons with easily detachable magazines as part of a wide-ranging slate of gun control bills they approved.
Lawmakers also voted to require that people turn in magazines capable of holding more than 10 rounds as they backed nearly a dozen measures that would significantly reshape California's gun laws, already among the strictest in the U.S. The move follows last year's terrorist attack in San Bernardino.
Legislative leaders are rushing to head off a ballot measure advocated by Lt. Gov. Gavin Newsom, a fellow Democrat, asking voters to enact many of the same policies. They worry the initiative will fire up gun rights supporters, potentially increasing turnout of conservative voters who could impact the result in close districts.
California's assault-weapon ban prohibits new rifles with magazines that can be detached without the aid of tools. To get around the law, gun makers developed so called bullet buttons that allow a shooter to quickly dislodge the magazine using the tip of a bullet or other small tool.
"They are designed only to facilitate the maximum destruction of human life," said Sen. Isadore Hall, D-Compton, who co-wrote the bullet-button ban.
Law enforcement officials recovered two rifles and two handguns after the San Bernardino attack. Both types of rifles are sold with bullet buttons.
Outlawing bullet buttons and high-capacity magazines is a priority for gun control advocates, who hope that making it harder to reload would limit the carnage a mass shooter can inflict. Democratic Gov. Jerry Brown in 2013 vetoed the Legislature's last attempt to ban bullet buttons, saying it was too far-reaching. A high-capacity magazine ban failed in the state Assembly that year.
The debate has fallen along familiar lines, with Democrats advocating a crackdown on guns in the name of safety and Republicans saying that tougher gun laws only hinder people intent on following the law.
"Gun ownership is a constitutional bedrock," said Sen. Ted Gaines, R-El Dorado Hills. "We can't smash the 2nd Amendment into a million pieces and expect America to be as free and strong as it's always been."
Senators approved 11 gun-related bills in total.
They include regulations for homemade firearms, background checks for ammunition purchases, a mandate to report lost or stolen guns, a ban on loaning firearms to friends and funding for a gun-violence research center.
The debate in the Senate comes as Newsom, a Democrat running for governor in 2018, is advocating a November gun control ballot measure incorporating many of the policies the Senate backed Thursday.
Senate President Pro Tem Kevin de Leon, D-Los Angeles, said he's also concerned that presumptive Republican presidential nominee Donald Trump's campaign will drive more right-leaning voters to the polls and imperil the gun-control initiative.
"I think it's too risky to put a lot of hard work, decades of hard work, before the voters of California. We don't know if it passes or not," de Leon said. "But if we can get it done in the legislative body, the question is, why not do it?"
De Leon wrote to Newsom last month asking him to hold off on his initiative and allow lawmakers to tackle the problem. Newsom declined.
The measures go to the state Assembly, where Speaker Anthony Rendon, D-Paramount, and other Democrats have publicly backed some of the policies approved by the Senate. But they could face a roadblock with moderate Democrats who have watered down or halted legislation from the more liberal Senate.
The initiative isn't going away, said Dan Newman, a campaign strategist working on the campaign. The initiative takes a different approach to tracking ammunition purchases and also requires vendors to report lost or stolen ammunition.
"It's one of those situations where more is more," Newman said. "The NRA is so powerful, and the gun violence tragedies are so frequent and so horrific, we need to take bold action in every way possible."
Gun rights advocates blasted the Senate for rushing the legislation to meet a deadline at the end of June for Newsom to withdraw his initiative.
"It is nothing short of unconscionable that millions of law-abiding Californians are being used as chess pieces in a twisted political game to see who can race to the bottom first," said Craig DeLuz, legislative advocate for the gun rights group Firearms Policy Coalition.