California's snowpack is nearly 200% above normal
LOS ANGELES - A parade of strong winter storms slamming California with heavy rain and gusty winds is boosting the state's snowpack well above normal. 
Right now the state's snowpack in the Central and Southern Sierra regions is more than 200% above normal for this time, according to the California Department of Water Resources.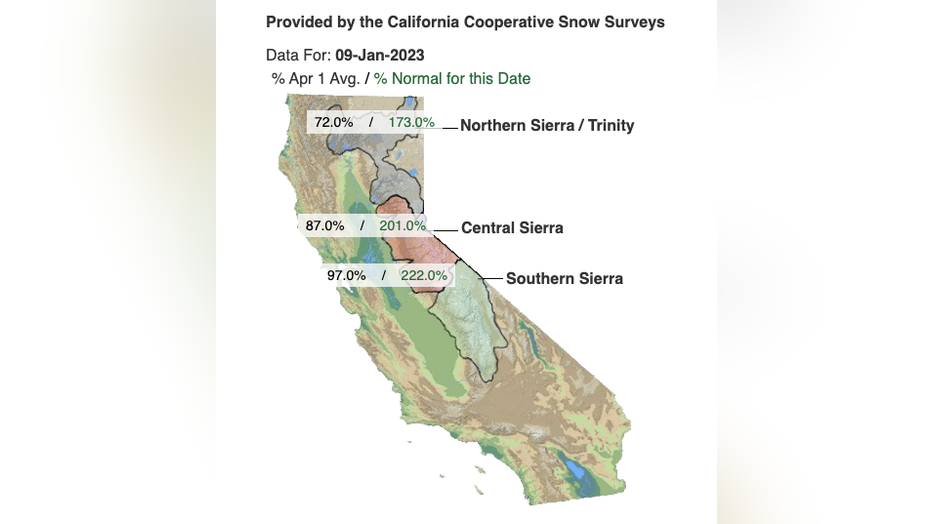 California snowpack percentages as of January 9, 2023. / California Department of Water Resources
According to the latest data from the DWP, the Northern Sierra/Trinity was 173% of normal, the Central Sierra was 201% of normal, and the Southern Sierra was 222% of normal. It's estimated the current total is 85% of the April 1 average. 
"The significant Sierra snowpack is good news but unfortunately these same storms are bringing flooding to parts of California," said DWR Director Karla Nemeth. "This is a prime example of the threat of extreme flooding during a prolonged drought as California experiences more swings between wet and dry periods brought on by our changing climate."
On average, the Sierra snowpack supplies about 30% of California's water needs and is an important factor in determining how DWR manages the state's water resources.
SUGGESTED COVERAGE: 
"Big snow totals are always welcome, but we still have a long way to go before the critical April 1 total," said DWR's Snow Surveys and Water Supply Forecasting Unit Manager Sean de Guzman. "It's always great to be above average this early in the season, but we must be resilient and remember what happened last year. If January through March of 2023 turn out to be similar to last year, we would still end the water year in severe drought with only half of an average year's snowpack."
Researchers at the UC Berkeley Central Sierra Snow Lab reported over the weekend they detected 8.5 inches of new snow in the 24 hours between Saturday and Sunday morning. 
Researchers located in Soda Springs in the Sierra Nevada said the snow numbers were slightly less than predicted, but that there were still opportunities for more snow as wet conditions were expected in the coming days. 
According to the U.S. Drought Monitor, parts of California have moved out of the "exceptional drought" category thanks in part to the recent storms, but most of the state still remains in the "extreme" or "severe" drought categories.
The Associated Press contributed to this report.