Candidates canvas California ahead of primary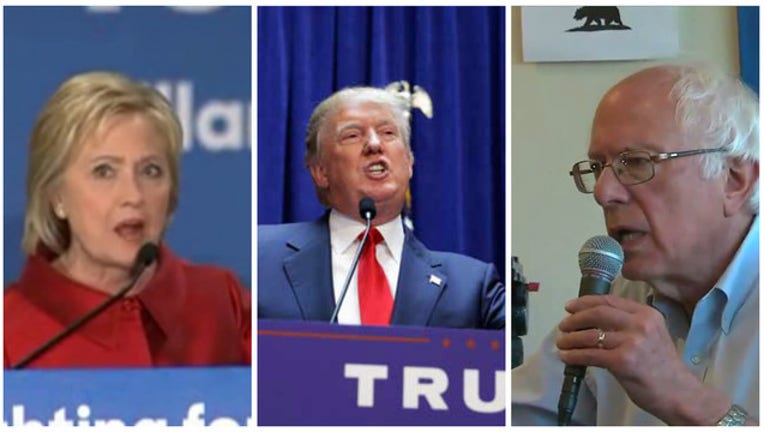 article
BAY AREA (KTVU) - California's primary election is next week.
This means the candidates are canvassing the state, trying to harness more support.
It's been quite some time since California played a major role in the nomination process.
Some voters are casting their ballots early at San Francisco City Hall.
LIVE VIDEO: Mobile app users can watch live video here. 
Every vote counts in this primary election - especially for the Democratic side.
A new Quinnipiac University poll shows that just amongst the frontrunners, meaning Hillary Clinton and Donald Trump, Clinton is leading 45 percent to 41 percent.
However, the poll found if you factor in third party candidates, then the margin is smaller.
Which is why many candidates are hitting rallies and many volunteers are making phone calls to voters.
Hillary Clinton will be in the Bay Area on Thursday.
She has no public appearances scheduled for Wednesday.
She did get an endorsement from Governor Jerry Brown earlier this week.
But last night she was in New York and New Jersey speaking with voters and also meeting with New Jersey Senator Cory Booker who some say may be a vice presidential choice.
Bernie Sanders continues to campaign in California.
He is scheduled to take part in two events in Palo Alto.
The first is an event not open to the public.
It is a community panel with local Asian American and Pacific Islander leaders at 1 p.m. Wednesday.
He will then hold a public rally at 2:30 p.m. at the Cubberley Community Center fields.
KTVU spoke with a researcher with the Hoover Institution at Stanford.
They conducted a poll that found Clinton with a sizeable lead over Sanders.
But there is a demographic that could come into play. "In our poll, Bernie Sanders swamps Hillary Clinton by a 2:1 margin with voters under the age of 30. But the question is can Bernie Sanders properly harness them on June the 7th," said Bill Whalen with the Hoover Institution.
Presumptive republican presidential nominee Donald Trump is also coming back to the state.
He plans on being in Sacramento for a rally at the Sacramento International Jet Center at 7 p.m. Wednesday.
Trump also has a rally scheduled for 7 p.m. Thursday at the San Jose Convention Center.