Cargo still lingers following resolution of port labor dispute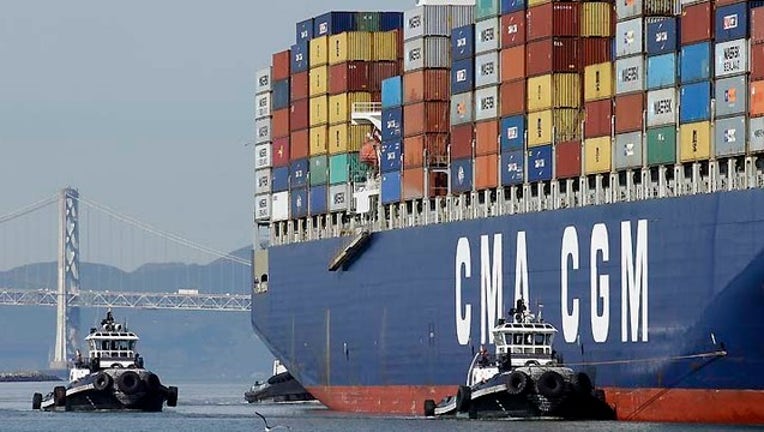 OAKLAND, Calif. (KTVU) - The Port of Oakland announced Wednesday that March cargo volumes are up from a year ago, well before the port slowdown went into effect.
As good as that might sound, it still means plenty of delays for local firms still waiting.
The port labor dispute, settled almost two months ago, still hasn't been ratified. Although it's better, cargo still lingers.
Family owned South San Francisco-based Italian Harvest was getting down to bare shelves when KTVU met them in January.
Lack of product for their many artisan food retailers, caused many canceled orders and serious financial stress for the firm. "We have had a lot of loss, probably thousands of dollars a week waiting for these containers to come in," says John Blount, one of the founders of Italian Harvest.
Some containers have arrived, virtually all at once, causing a storage challenge in the small warehouse. "Containers that came in today departed maybe four months ago, but, a lot are still blocked in the port," says Blount.
Meanwhile, Baby World's three stores don't import even one container, but all of their suppliers do and that remains a big problem. "Car seats and strollers; a little bit of the clothes. I still have to quote to customers like four weeks just in case the company has a problem with the port or they are delayed," says Christina Cabello, Baby World's founder.
The biggest problem is cribs and bassinets with a four to five month wait. "We still have reports from the companies saying, 'I'm sorry, we cannot deliver until three more weeks,'" says Cabello.
Though the Port of Oakland is working its way through a huge backlog of containers in storage yards, continued delays are blamed on the ports of Los Angeles and Long Beach.
"There still are five to ten ships a day delayed in southern California. Those ships have to come to Oakland after they leave Los Angeles and Long Beach. When cargo arrives here from southern California, it is sometimes bunching up getting delayed in the marine terminals," says Mike Zampa, Director of Communications for the Port of Oakland.
That's expected to last for another month or so as ships, currently bunched up playing catch up, return to their normal schedules.
Little has been done to prevent a similar port slowdown, by either the shippers or the union. When the contract expires in just over 4 years - that's something government regulators are taking a close look at.