Chemo patient brings laughs, positivity with a series of photos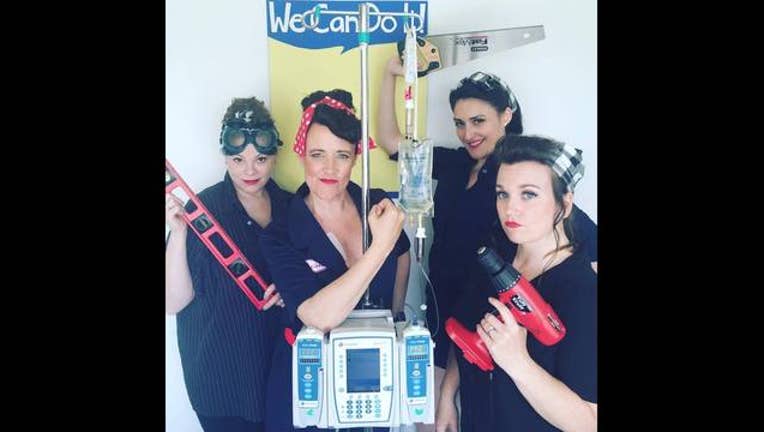 article
NEW YORK (KTVU) - A mother of two with stage IV colon cancer is taking a theatrical and unorthodox approach in her fight against cancer. 
With help from her cast of supportive friends, Karen Walsh is taking creative, theme driven photos during each chemotherapy session.
On her Instagram account, Walsh has posted photos of herself and her crew dressed as characters including Rosie the Riveter and the women from "The Golden Girls" and "Charlie's Angels."
They've also dressed up superheroes, and used themes like "Thelma and Louise," "Star Wars," and "Forrest Gump." 
Walsh was diagnosed with colon cancer last September, one week after her 40th birthday. She was feeling week and thought it was due to a recent, unrelated surgery she had had.
Then after feeling cramps under her ribs, she went in to see a doctor, never expecting the diagnosis that she received.  
After tests and scans, she later found out that in addition to the primary tumor in her colon, the cancer had spread to her liver and lymph nodes.
Because of the location of the tumors she was not a candidate for surgery. So she soon began chemotherapy, receiving treatment about every two weeks. 
Walsh, a former San Francisco resident now lives in New York and is a Broadway actress.
Her chemo photo series was launched after a friend, who is a choreographer, took a picture of Walsh posing as an aerialist.
There have been dozens of these photos, which have touched many, including others battling cancer.
Walsh tells KTVU Fox 2 that these photo shoots began as a coping mechanism for herself. "This is about me healing, navigating [the process] in a way that doesn't scare me." 
She says that treating chemo as a playful event, turning it into something that brings her joy and laughter is her way of dealing and taking on her fight against cancer. 
Walsh says that her acupuncturist told her early on that laughter will be a key to her healing and this is what materialized out of that advice.
She says during the process, she feels love from those who are there to support her, and in addition it gives her friends and family a "playful task" to focus on as she goes through her treatment.
Walsh says her friends have taken to coordinating the photo shoots and those who take part in the shoots sign up months before her scheduled chemo session.
She says she's been "touched and honored" by the outpouring of support from her friends and family.  
Walsh's photos have been shared around the world and many have expressed their appreciation for the positivity she brings to the difficult process of chemotherapy. 
Walsh tells us that just the other day, a woman who is also battling colon cancer reached out to her, saying that she was feeling down and just wanted to give up.
Then she came across Walsh's pictures and was lifted up and inspired to move on. "That message meant a lot to me," says Walsh.
"Chemo is not easy or fun. Thanks for the laughs! Keep up the fight!!" writes one Instagram follower who is battling breast cancer.   
Walsh has become a spokeswoman for the American Cancer Society and is working with the organization in its effort to get 80 percent of the population screened for colon cancer by 2018.
A mother to a 7-year-old girl and 2-year-old boy, Walsh tells us that she wants her children to see these photos, which she hopes embodies a sense of joy and strength. 
"It's important to me they see me handling adversity with a forward motion," Walsh says. And she wants to show them that she is doing everything she can in her fight.
On Wednesday, Walsh goes in for her 21st round of chemo. She says her crew is working on this week's theme, which is being tightly guarded.
Stay tuned for what Walsh and her supportive cast have in store...