Chicago police officer fatally shot on Southwest Side
CHICAGO - Chicago police officers rushed to Mount Sinai Hospital Wednesday afternoon after one of their own was fatally shot on the city's Southwest Side.
Officer Andres Vasquez-Lasso, 32, was shot and killed as he chased an armed suspect who suddenly turned and fired "at close range" Wednesday afternoon in Gage Park.
Supt. David Brown addressed the media in a somber news conference outside Mount Sinai Hospital Wednesday night detailing the moments that led to the officer being shot.
At about 4:45 p.m., two police cars responded to a domestic-related call in the 5200 block of South Spaulding Avenue in the Gage Park neighborhood.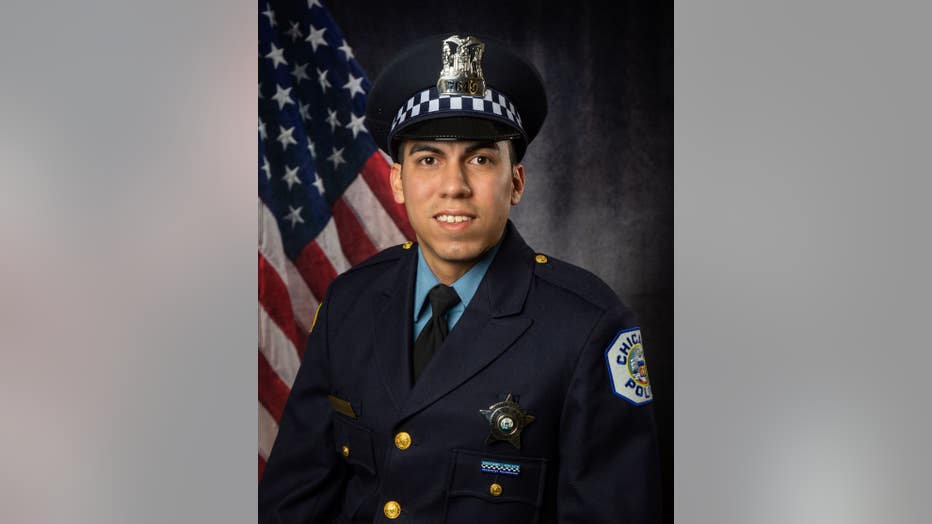 Andres Vasquez-Lasso was killed in the line of duty on Wednesday, March 1. 
The caller said an offender was chasing a female down the street with a gun, Brown said.
SUBSCRIBE TO FOX 32 CHICAGO ON YOUTUBE
After the two police vehicles arrived at the scene, one car of officers began knocking on the door of where the call came in.
The second car of officers engaged with the offender. A chase then ensued.
Vasquez-Lasso who engaged in the chase exchanged gunfire with the offender at close range. The suspect was shot in the head and was transported to an area hospital in critical condition.
Vasquez-Lasso was struck multiple times and was transported to Mount Sinai Hospital, where he succumbed to his injuries.
"This is a terrible tragedy for our city and we are mourning along with the officer's family," said Chicago Mayor Lori Lightfoot.
Vasquez-Lasso had been on the force for five years, and Brown said he had a very bright future ahead of him. Brown also noted that the officer comes from a family of public servants. 
"There are some broken hearts that will take a long time to grieve, to accept this," said Brown.
Brown noted that the offender is 18 years old and only has one prior violation.
Ald. Raymond Lopez (15th) said the suspect was charged in connection with gang activity last year.
A procession was held Wednesday night for the officer who was killed in the line of duty.
The last Chicago police officer shot and killed in the line of duty was Officer Ella French on Aug. 7, 2021. French and her partner, Carlos Yanez, were shot after they and Officer Joshua Blas stopped a Honda CR-V around 63rd Street and Bell Avenue. Emonte Morgan allegedly opened fire, killing French and shooting Yanez in the head multiple times.
Officer Samuel Jimenez and Cmdr. Paul Bauer were killed in separate shootings in 2018. Jimenez was among four fatally wounded in a mass shooting at Mercy Hospital that November, while Bauer was shot and killed nine months earlier while trying to arrest a man fleeing from police near the Thompson Center.
Chicago mayoral candidate Paul Vallas released the following statement following the death of the officer:
"The courageous men and women of the Chicago police department have suffered another tragic loss of one of their own to the ultimate sacrifice of protecting our communities. My heartfelt thoughts are with the officer's loved ones and the entire CPD family who are grieving during this difficult time. This is a tragic reminder of what our police officers do each and every day, laying their lives on the line for us. This violence must come to an end."
Chicago mayoral candidate Brandon Johnson also released a statement following the fatal shooting:
"This is a sad and sorrowful day for our city, and my heart goes out to the family, friends and colleagues of the Chicago police officer whose life was taken in the line of duty in Gage Park this afternoon. I am praying for healing for all those close as we await further details on this tragedy."
Body-worn camera is currently being reviewed to piece together the investigation.
COPA will also be investigating this shooting.
The Sun-Times Media Wire contributed to this report.