Chilly storm front rapidly approaching the Bay Area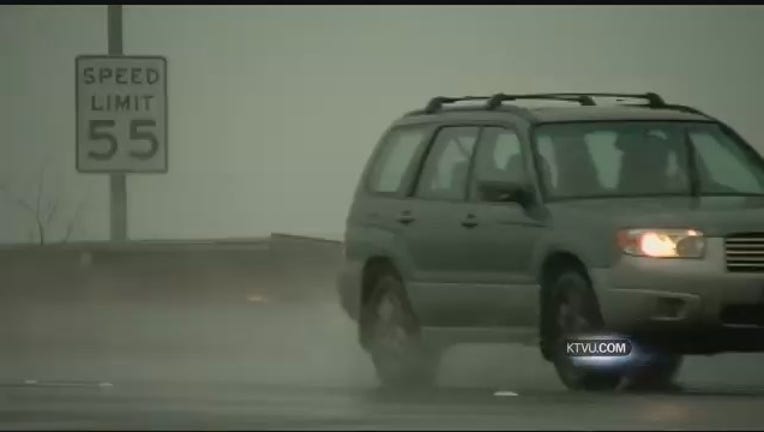 article
SAN FRANCISCO (AP) -- Drought-stricken California was set to get some relief from an approaching storm that forecasters said would be unusually strong for this time of year for parts of the state.
The system was expected to touch down in San Francisco early Thursday morning with scattered showers that could dump a quarter inch of rain on parts of the region before it winds down in the late afternoon, National Weather Service forecaster Diana Henderson said.
"Even using the word, `storm,' is probably hyperbole," she said.
But that won't be true when it sweeps through Southern California, where it will pack a bigger punch.
A cold front could bring an initial period of steady rain by Thursday afternoon, followed Friday by an unstable low pressure system accompanied by scattered showers and possible thunderstorms, National Weather Service meteorologist Ryan Kittell said.
Up to a half-inch of rain could fall in and around downtown Los Angeles, while foothill neighborhoods might see about an inch. Flooding and debris flows are possible if thunderstorms form over foothill areas stripped bare by recent wildfires.
In the mountains, the storm may dump up to two inches of snow as low as 5,000 feet.
Kittell said a mid-May storm packing so much moisture in Southern California is rare. Southern California got a similar dousing last week.
"Typically now we see our `May Gray' and `June Gloom' season, with low clouds and some drizzle, but no actual storm," he said.
But don't expect the dousing to ease the state's worsening water shortage, Kittell said.
"It won't have any huge impact on the drought, but any little bit will help, especially if we get some snow in the mountains," he said.