CHP motorcycle officer struck in San Francisco crash
SAN FRANCISCO - A California Highway Patrol motorcycle officer collided Sunday afternoon in San Francisco with a vehicle.
The officer was taken San Francisco Zuckerberg General Hospital suffering from non-life threatening injuries. 
Public Information Officer Mark Andrews said the collision occurred at 3rd and Harrison streets about 3 p.m.
Andrews said that paramedics were on scene within minutes. 
The driver of a Cadillac sedan, which was involved in the crash was said to be cooperating with officers. 
That person was also taken to the hospital, although it's unknown if they were hurt, according to Andrews.
Both the San Francisco police and California Highway Patrol's Major Accident Investigation Team were investigating the scene. 
Mike Larkin was waiting for officers to allow him to remove his car from the scene. 
He shared with KTVU, he didn't see the accident happen, but arrived back to his parked car just in time to see the officer leave in an ambulance. 
"I came back about an hour ago and i could see they put the officer in the ambulance and I couldn't tell how injured he was, but another police officer told me that he'd been thrown, and almost touched my car, so he must have been thrown about 30 feet," he said.
Larkin lives in the outer Sunset district in the City and said he drives slow, knowing there are lots of risks, especially downtown, saying, "there's just a lot, a lot to take in, and people aren't paying attention. A lot of people running lights and just driving too fast."
Fortunately, both the motorcycle officer and the driver are expected to recover, 
There are surveillance cameras in the intersection that will be reviewed as part of the investigation.
Alice Wertz is a freelance reporter for KTVU. She can be reached at Alice.Wertz@Fox.com X: AlicesTake Instagram: WayIseesIt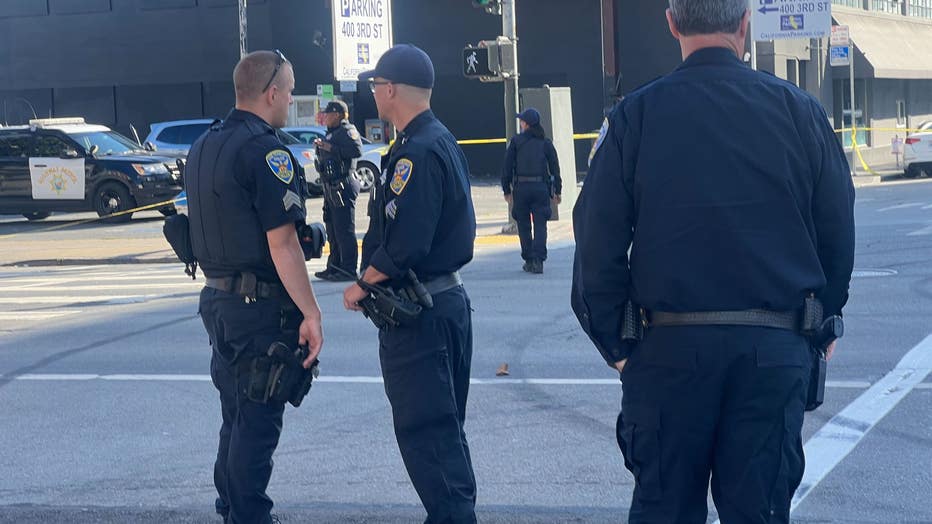 A CHP motorcycle officer was struck in San Francisco. Sept. 3, 2023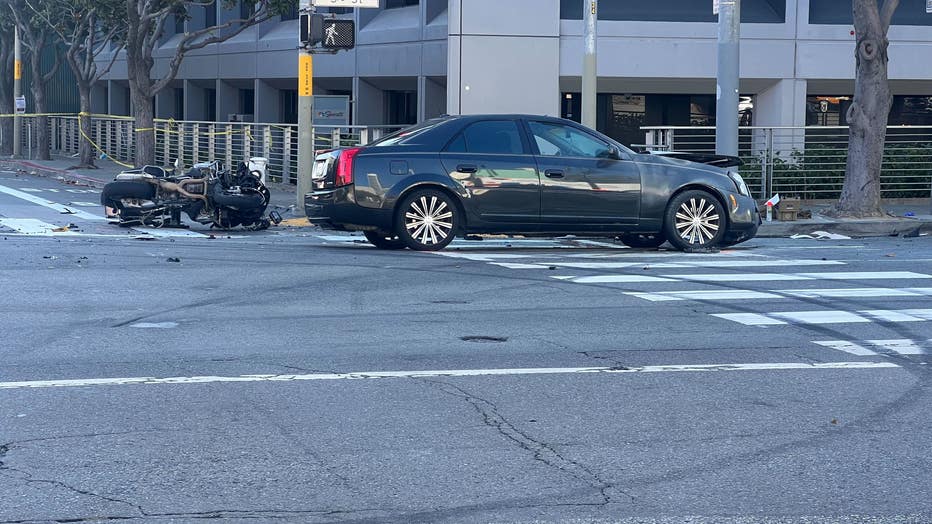 A CHP motorcycle officer was struck in San Francisco. Sept. 3, 2023