CHP officers arrest suspect after lengthy pursuit, rollover crash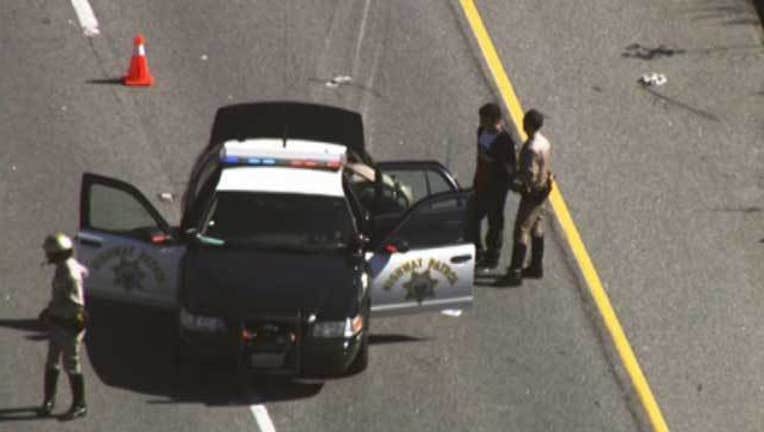 article
LOS ALTOS, Calif. (KTVU and wires) -- A speeding driver who led California Highway Patrol officers from Solano County through three more Bay Area counties before crashing on the edge of Los Altos Hills this afternoon has been identified as 24-year-old Ramon Bernal, according to the CHP.
The chase started around 2 p.m. in Vacaville where a Solano area CHP officer saw a gold Nissan Pathfinder speeding on westbound Interstate Highway 80 near Interstate Highway 505, CHP officials said.
The officer tried to conduct a traffic enforcement stop on the Nissan driver, later identified as Bernal, but he didn't yield, according to the CHP.
Officers continued to follow the car as it traveled south on Interstate Highway 680 in Fairfield, CHP officials said.
Contra Costa area CHP officers took over the pursuit when the vehicle entered their jurisdiction on Highway 680, then by Dublin area CHP officers once Bernal entered San Ramon, officials said.
The suspect vehicle's front tires were deflated by a spike strip deployed by officers from the CHP's commercial vehicle enforcement facility at the Mission Grade, according to the CHP.
The Nissan continued down Highway 680 into Milpitas where San Jose area CHP officers handled the pursuit, CHP officials said.
Traveling at speeds of between 80 to 95 mph, the SUV transitioned to northbound Interstate Highway 280, where the front tires were disintegrating, according to the CHP.
Shortly after 3 p.m., the vehicle then crashed into the center median and struck a small dirt embankment, CHP officials said.
Bernal lost control of the car, which overturned once before it came to rest on the left lanes just before Magdalena Avenue near Los Altos Hills, according to the CHP.
Bernal stepped out of the car at his own accord and officers conducted a felony stop on him, CHP officials said.
He was taken into custody without incident, officials said.
Bernal, a Davis resident, was transported to Stanford University Medical Center to be evaluated, according to the CHP.
Once he is medically cleared, he will be booked into Santa Clara County Jail on suspicion of felony evasion of a peace officer and driving under the influence of drugs, CHP officials said.