Cleanup underway at site of early morning Dow Chemical release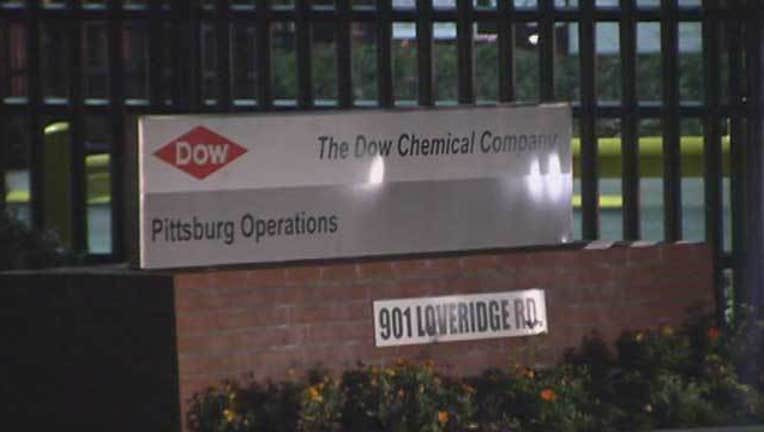 article
PITTSBURG, Calif. (KTVU and wires) -- More than 20 workers are cleaning up an unintended chemical release at Dow Chemical's waterfront processing facility in Pittsburg Friday afternoon, according to a Dow Chemical spokesman.
The incident began at 2:50 a.m. at 901 Loveridge Road when a proprietary chemical known as Dowicil was being mixed with methylene chloride in a large tank.
Heat and pressure buildup caused thousands of pounds of the chemicals to be released in liquid form through a pressure relief device, leading county officials to issue a health advisory around 3 a.m. The all-clear went out around 5 a.m., and county officials lifted the health advisory at 5:39 a.m.
"The cleanup process has been going all morning and into the afternoon," he said. "We expect to be just about done by the end of the day, and the material itself is relatively water soluble so that makes things move nicely."
Kneibel said the part of the processing plant where Friday morning's chemical release occurred is temporarily shut down while experts investigate the cause of the incident. That could stretch into next week.
Employees who typically work in that part of the plant will not lose hours or pay as a result of the shut-down, however.
"We have no intention to send anyone home for any reason at this point in time," Kneibel said. "They're predominantly helping with cleanup operations."
Dowicil, the chemical released at the Pittsburg plant, is a biocide commonly found in liquid hand soap and other household materials like paint, according to Kneibel.
"It's not really all that bad, but we're having our folks wear respirators for extra protection, and the hazmat suits are pretty typical," spokesman John Kneibel said this afternoon.
Randy Sawyer, chief environmental health and hazardous materials officer for Contra Costa County, said the chemicals released seem to have stayed on-site but the California Department of Fish and Wildlife was notified about the incident due to concerns about how the nearby Dow Wetlands Preserve might be affected.
"It's directly downwind from this processing plant, and if (the chemicals) did go offsite it would affect those wetlands," Sawyer said. "It is toxic to aquatic life, so it's definitely a concern."
Alexia Retallack, with the California Department of Fish and Wildlife, said the agency investigated this morning's spill but determined the accident was largely outside their scope.
"The material that was released shot up, the solid material dropped on site, and the rest of it escaped into the atmosphere," Retallack said. "It's really out of our jurisdiction and not something we typically respond to."
Methylene chloride, the solvent in this morning's release, is an anesthetic, according to the Center for Disease Control.
Inhaling methylene chloride can cause "drunken behavior" like mental confusion, light-headedness, nausea, vomiting and headache. Continued exposure can lead to unconsciousness or death, and high concentrations of the vapor can cause eye and respiratory irritation, according to the CDC.