Collmenter shuts down Giants, gets 3 hits in D-backs win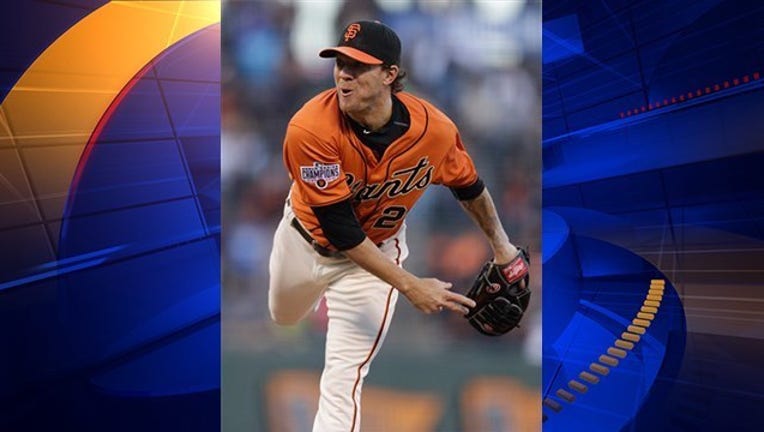 SAN FRANCISCO (AP) — Josh Collmenter pitched a four-hitter and had a career-high three hits, and the Arizona Diamondbacks sent the World Series champion San Francisco Giants to an eighth straight loss with a 9-0 win Friday night.
Jake Lamb hit a two-run triple in the third and Collmenter (1-2) added an RBI single as Arizona knocked Jake Peavy out of the game after only 3 2-3 innings. Paul Goldschmidt singled in a run for the Diamondbacks.
A.J. Pollock matched his career high with four hits for Arizona, including an RBI double. David Peralta doubled in a run and Tuffy Gosewisch added an RBI single on a chilly Bay Area night.
The Giants' eight-game skid is their longest since June 13-22, 2007, in home run king Barry Bonds' final season. Their 3-9 record matches the worst start in San Francisco history.
Collmenter struck out two and walked one in his second career shutout and complete game. He finished the 114-pitch gem by retiring Hector Sanchez on a broken-bat popup.
The right-hander warmed up during the final inning of Arizona's 7-6 win in 12 on Thursday night, and if he had been used, the D-backs likely would have called up a pitcher from Triple-A Reno to start Friday. Collmenter is 3-0 with a 0.96 ERA in seven appearances and three starts at AT&T Park. His three hits are already half of his 2014 total.
First-year Arizona manager Chip Hale considered batting Pollock in the No. 3 hole and Goldschmidt cleanup, but stuck with Pollock second followed by the slugging first baseman. It was a good call given the production they each delivered.
"Goldy's our No. 3 hitter and he'll be our No. 3 hitter," Hale said.
Goldschmidt turned an unassisted double play to end the fourth when Brandon Belt lined out to first and Goldschmidt then caught Casey McGehee off the bag.
Peavy (0-2) was tagged for four runs and eight hits in his second short outing so far. He lasted just four innings in a loss at San Diego on April 12.
The beat-up Giants are counting down to their much-needed first off day of the season Monday before another tough stretch of nine in a row all against the division, starting with a three-game series at home against the defending NL West champion Dodgers before three games each at Colorado and Los Angeles.
LINCECUM'S NEW 'DO
Two-time NL Cy Young Award winner Tim Lincecum's new haircut is inspired by rocker Matt Healy, lead singer for the group "The 1975." Lincecum trimmed his shaggy 'do by shaving the sides and keeping a long patch down the middle of the top and back. On the left temple area are three shaved lines.
"It's my third one in two years," he said. "Sometimes it's just easier to let it grow. I braved it, I rolled the dice."
Of being introduced in front of a cheering, sellout crowd for the home opener, he said: "It's still hair-raising ... no pun intended."
TRAINER'S ROOM
Giants: New Giants 3B McGehee returned from a left knee injury to make his first home start and went 0 for 2 with a walk. ... 1B Travis Ishikawa, on the DL working back from a lower back injury, is encouraged with his progress in his rehab assignment with Triple-A Sacramento. He skipped the River Cats' road trip to attend Saturday's World Series ring ceremony.
UP NEXT
Diamondbacks: RHP Rubby De La Rosa (2-0) looks to mark the 21st time an Arizona starter has won his first three starts in a season.
Giants: RHP Chris Heston (1-1) takes a 0.69 ERA into his third start of the year. He beat the Diamondbacks for his first major league win April 8 at Chase Field.