Committee recommends looking at alternatives to tear gas in Santa Clara County jails
SAN JOSE, Calif. - A special committee that advises the Santa Clara County Board of Supervisors on Thursday recommended that the sheriff should look for alternatives in convincing incarcerated people to take their medications and obey orders as they discussed the overall use of deploying tear gas in the jails. 
But the Community Correction and Law Enforcement Monitoring Committee, known as CCLEM, stopped short of making any finding for or against the use of tear gas. 
In fact, the committee did not take a formal position on whether the sheriff should be allowed to continue using tear gas for what's called "cell extractions" or whether more military equipment should be purchased.
But what the committee did recommend in a 5-1 vote is that the supervisors and the sheriff look to mental health facilities and how they persuade non-compliant people to take their meds as well as conduct a long-term study the impact of tear gas on individuals incarcerated in Santa Clara County. 
The suggestions came after a three-hour meeting where 10 people spoke against the use of tear gas and last month's KTVU investigation, which revealed that Santa Clara County is the only county in the Bay Area to use tear gas in its jails to get people to comply with demands. 
The Board of Supervisors is now set to vote on Sept. 19 on whether to allow the Sheriff's Office to buy more tear gas and other military equipment. The issue has been held up since June when Supervisor Susan Ellenberg had questions about the use of tear gas in the jails and whether de-escalation methods were tried first. 
A Santa Clara County sheriff's military equipment purchase shows that deputies used the gas 17 over the last year, sometimes for not taking their medication. Sixteen of those cases involved people who suffer from mental illness. 
Speaking publicly for the first time about tear gas, Sheriff Bob Jonsen spoke passionately at the meeting. 
He emphasized that his deputies are compassionate and caring, and his office is not the "sheriff's department of the past."
He also stressed that in his view, tear gas should not be considered "chemical warfare" because anyone can buy it on Amazon.  
"I really think words matter," Jonsen said. "And when we talk and hear about people using 'chemical warfare' in our correctional facilities. That's an overstatement beyond anything I could imagine." 
Santa Clara County sheriff's officials told KTVU that they consider tear gas a "low-level tool," which they believe is a safer option than if deputies went "hands on" with someone in a situation that could escalate even further.
Sheriff's officials also said that the tear gas is used only after a person, who might harm themselves or others, is given "multiple chances" to comply with an order – like taking their court-ordered medication – and is done when medical and mental health staff, a supervisor and a deputy trained in crisis intervention are there to oversee the process. 
The brand of tear gas that Santa Clara County buys is called Clear Out, which is 1% tear gas and 1% pepper spray.
Tear gas contains Tear gas contains a chemical called CS, the abbreviation for the compound 2-chlorobenzalmalononitrile.
Tear gas can also cause chemical burns, allergic reactions and respiratory distress. People with preexisting respiratory conditions, such as asthma and chronic obstructive pulmonary disease, are especially susceptible to the gas, and it's possible they could die. 
Santa Clara County Sheriff Bob Jonsen defends the use of tear gas. Sept. 7, 2023 
Before the sheriff spoke, jail reform activists all decried the use of the tear gas on those in custody, noting most are mentally ill and live in a confined space. No members of the public came to support the use of tear gas. 
Victor Sin, chair of the Santa Clara Valley chapter of the ACLU, said he was opposed to tear gas in the jails, noting that the chemicals are banned in war and "should not be used on residents or any reason." 
Sin was joined by Leika La Roque, a community organizer with the Asian Law Alliance; Jose Valle; a community organizer with Silicon Valley De-Bug: activist Paul Soto Horseshoe; Aram James, a former deputy public defender; members of Secure Justice and the Coalition for Police Accountability; several church leaders and Sean Allen, Silicon Valley chapter of the NAACP, who also worked for the Santa Clara County Sheriff's Office.
Allen decried the use of tear gas for several reasons, including the fact that it affects everyone in the vicinity, even deputies.
Allen said that when he was a tactical commander, he was involved in deploying the gas, which caused "commanders to cough uncontrollably," and many of the deputies had to run out of the building."
Allen said that tear gas doesn't really get the job done anyway.
When it was used, he said the "incarcerated person did not give in, and we had to use physical force."
Plus, Allen reminded the committee members, "any unnecessary use of force is unlawful." 
Before the public comment, members of the independent auditing team, OIR, hired by Santa Clara County to provide some oversight of law enforcement, presented their findings.
The OIR group's auhors stressed the necessity of incarcerated people taking their medication – especially when they can be violent and aggressive without it. 
The authors also said they were impressed with the deputies' calm demeanor, the patience they used and how they negotiated with people first before deploying the chemical agent, sometimes taking up to two days to do so. 
The report, authored by Michael Gennaco, Teresa Magula and Julie Ruhlin, also found that no one suffered any injuries after being gassed.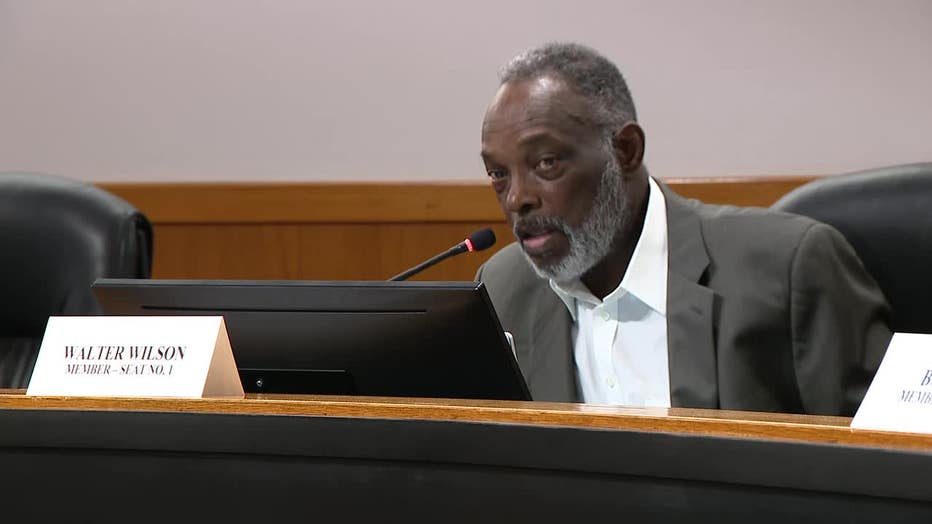 CCLEM co-chair Walter Wilson does not think tear gas should be used in Santa Clara County jails. Sept. 7, 2023 
However, the OIR authors recommended that some changes be made.
They said that the gas should not be used on people with these medical ailments and they also recommended that supervisors be part of the process before the agent is used.
At the meeting, sheriff's officials said they were already implementing some of these recommendations. 
The KTVU investigation found that Solano County is the only county in the Bay Area where deputies do not use either tear gas or pepper spray. 
If someone won't take their medication in that county, deputies said that they might call in a mental health counselor or even the person's lawyer to talk to them. 
Magula acknowledged that her office did not reach out to any state hospitals to see how staff there get patients to comply with taking medication. And she also acknowledged that she did not directly contact anyone at the Public Defender's Office, which represents a large portion of those incarcerated at Santa Clara County's jails. 
Lisa Fernandez is a reporter for KTVU. Email Lisa at lisa.fernandez@fox.com or call her at 510-874-0139. Or follow her on Twitter @ljfernandez.