Santa Clara County's use of tear gas at jail halts military equipment purchases
SAN JOSE, Calif. - Santa Clara County sheriff's deputies are the only ones in the Bay Area to use tear gas on people in jails and revelations about when and how these chemical agents are used have halted all further military equipment purchases. 
Records show that deputies used a tear gas mixture 17 times in the last year in Santa Clara County. The mixture was used at least three times when people didn't take their medication and another instance when someone got doused because they didn't "dress out" for court.
Even Santa Rita Jail in Alameda County, which has a notoriously high in-custody death rate, does not use tear gas. And deputies at Solano County's jail do not use either tear gas or pepper spray; they persuade people to take their medication by calling in clinicians and defense attorneys, according to a monthlong investigation by KTVU.
The public disclosure of these military-grade chemical agents comes nearly four years after Santa Clara County agreed to two legal consent decrees, promising to improve the medical and mental health care of those housed in the county's two jails, as well as to prevent the unnecessary and excessive use of force.
Critics skeptical about tear gas use
Jose Valle is a community organizer at Silicon Valley De-Bug who thinks there is no good reason for deputies to use tear gas in the jails. 
Santa Clara County sheriff's officials told KTVU that they consider tear gas a "low-level tool," which they believe is a safer option than if deputies went "hands on" with someone in a situation that could escalate even further.
Sheriff's officials also said that the tear gas is used only after a person, who might harm themselves or others, is given "multiple chances" to comply with an order – like taking their court-ordered medication – and is done when medical and mental health staff, a supervisor and a deputy trained in crisis intervention are there to oversee the process. 
The Sheriff's Office stressed that they use Clear Out "only after other de-escalation tactics have been exhausted but unsuccessful," and that their goal is "always to use the least amount of force necessary to ensure the safety of the individual and others housed within the jail facilities, as well as the professional staff working within the facilities."
But some observers are outraged by the use of tear gas in a confined setting because of the harmful health effects the chemical agent can cause, like respiratory problems and even possible blindness and death. 
Tear gas contains a chemical called CS, the abbreviation for the compound 2-chlorobenzalmalononitrile. 
These critics suspect that the CS gas is being used a significant portion of the time on those who suffer from mental illness.
"It's crazy," said Jose Valle, a community organizer at Silicon Valley De-Bug, a grassroots social justice and advocacy organization. "It's so extreme, especially for something like 'involuntary medication.' Most of these folks are not sentenced and I'm wondering if these folks have mental health issues. It certainly appears to be."
Valle also noted the irony of gassing someone to make them take their medicine. He and others say that spraying chemical agents on someone with schizophrenia to get them to comply will actually have the opposite intended effect. 
Corene Kendrick, deputy director of the American Civil Liberties Union National Prison Project, was also troubled. Tear gas has been banned from military battlefields since 1925, though U.S. police are still allowed to use it, mostly to use outdoors to quell riots. 
"What's really disturbing is this report says that they're using tear gas to extract people from cells or to forcibly medicate seriously mentally ill people," Kendrick said. "Tear gas used in prisons is often just only for those very extreme situations, like there's a hundred people rioting at the prison sort of situation. It's very concerning given how lethal tear gas can be, that it's being used in such confined spaces like a jail cell."
Sheriff's office says gas, spray are within policy
Santa Clara County Sheriff Bob Jonsen did not respond to several requests for an interview.
But at a June 27 board of supervisors hearing, Capt. Brendan Omori said there have been no complaints about deputies' use of military equipment. 
"We have low usage numbers of the equipment," Omori told the supervisors. "We are committed toward transparency with the use of this equipment."
Santa Clara County buys a military-grade tear gas product called "Clear Out" from a company called Aerko International.
A 6-oz. container contains 1,700 milligrams of CS gas, as well as pepper spray. According to law enforcement, 5,000 mg of CS is considered safe. 
The canister is equipped with a small hose, called a keyholer, which can be slipped under a cell door and goes off like a "bug bomb" grenade inside the confined area. 
Deputies don protective gear and stay outside as the entire aerosol can is deployed inside the cell. 
Law enforcement says chemical agent important, less-lethal tool
Many in law enforcement say using tear gas can be an effective way to control a volatile situation and that it's much less lethal than firing a weapon, or even wrestling someone with bare hands. 
"Once you have to go hands-on, that can create potential for injury for everyone," said Scott Fowler, owner of NW Self-Defense Products LLC in Oregon, who trains Santa Clara County sheriff's deputies in how to use Clear Out. "So if you can gain compliance with this type of product where the individual actually submits and is restrained and peacefully moves to the new location, then it's a win for everyone."
Fowler said Clear Out is "designed to move a subject from one place to another," and he describes the product as a "planned use of force."
"If you have a combative subject or someone creating self-harm, what this product does is it allows a safer environment for that subject and for the personnel because you don't have to go hands on," Fowler said.
In Fowler's opinion, using tear gas is superior to pepper spray for "cell extractions." Pepper spray, he said, is superior for breaking up large fights.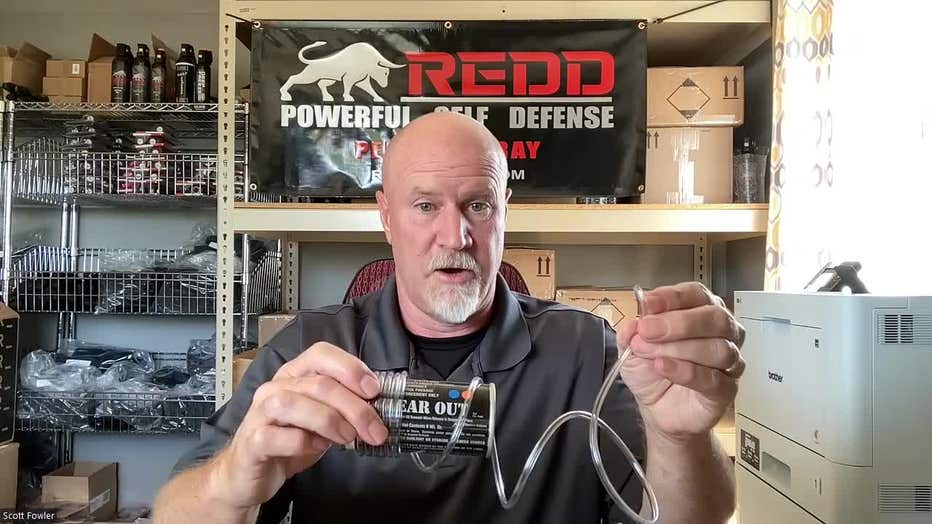 Scott Fowler of NW Defense trains Santa Clara County sheriff's deputies how to use Clear Out, or tear gas. 
Military purchases must be documented
The use of tear gas, as well as pepper spray, among other items, are documented in the Santa Clara County Sheriff's Office Military Equipment Use Annual May 2023 Report.
The sheriff's office inventory list showed the agency had acquired 257 canisters of Clear Out tear gas for that time period to use at Elmwood Correctional Facility in Milpitas and the Main Jail in San Jose. The sheriff also purchased 301 canisters of pepper spray, known as MK-46 and MK-9. The annual report spans May 1, 2022, to March 31, 2023.
A new law, AB 481, requires law enforcement agencies to make public the use of military equipment and also seeks purchasing approval from governing bodies, such as the Santa Clara County Board of Supervisors.
Additionally, the law also requires that the government agency only approve the purchase of military equipment if there are "no reasonable alternatives to achieve officer and civilian safety."
Tear gas used on those who refused medication, changing clothes
A review of the military purchase report shows that 16 out of 17 times the deputies used tear gas, it was for someone who didn't obey orders. 
For example, on three occasions in 2022, deputies deployed tear gas because people refused their medication. On one occasion, a person was gassed for not "dressing out," meaning they didn't want to attend a legal proceeding, or possibly put on a suit for court. In the majority of cases, the blanket reason for using the gas was "refusal to follow directives." 
The mental state or health of the incarcerated person was not mentioned in the sheriff's report. It's also unclear if the deputies are using the tear gas on the same person or not. 
In each case, the sheriff's annual report noted that the deployment of tear gas had been audited and there were "no policy violations."
KTVU requested to review video of some of the tear gas deployments to visually show what led up to the situation and the after-effects of the CS gas.
But the Santa Clara County Sheriff's Office denied public disclosure of the video citing that it was intelligence information or would expose security procedures. The office did not elaborate.
While no other Bay Area jail uses tear gas, those in Los Angeles County do. And now, the sheriff there is getting sued.
In June, current and former detainees filed an excessive force lawsuit against the Los Angeles County Sheriff's Department for allegedly violating the U.S. Constitution — specifically the 4th and 14th amendments. The suit states deputies fired more than 50 canisters of tear gas at a dorm housing several dozen people last year after deputies ordered them to get off the phone.
Tear gas, pepper spray can cause pain, harm
In addition to the tear gas, Santa Clara County sheriff's deputies used pepper spray 59 times in a year – nearly five times a month over a year's period –  often to break up fights at the jail, which, according to the report, occur frequently. 
Although that was the highest number of times pepper spray was used in the Bay Area, San Francisco jails actually use pepper spray the most per capita, the KTVU investigation found. Santa Clara County jails house about 3,000 people a day; San Francisco houses slightly fewer than 1,000. 
Raymond Goins, a community organizer at Silicon Valley De-Bug who was incarcerated in state prison for 18 years, has been pepper sprayed and tear-gassed several times.
"It feels like eyes burning, a lot of burning, a lot of coughing," he told KTVU. "When they disperse it, everybody in that pod feels it. That one individual doesn't just feel it. We all feel it."
Goins disputed the fact that chemical agents are less lethal; he said he knows someone who died after being sprayed.
"There are better ways of handling that," he said. "If there's a fight in the streets they don't use Mace. Chemical warfare shouldn't be something that's used in our county jails."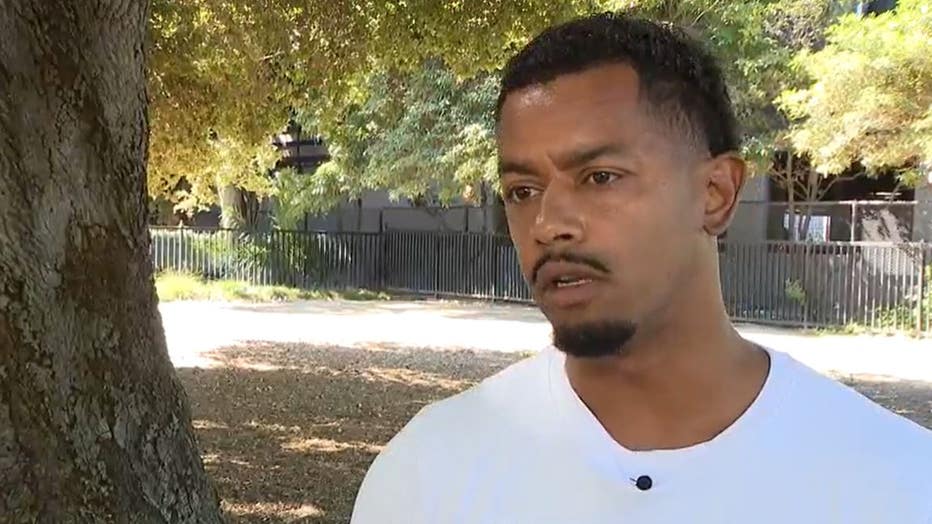 Raymond Goins has felt the effects of both tear gas and pepper spray in state prison.
One county uses de-escalation techniques, not chemical agents
Solano County is the only jail in the Bay Area where deputies don't use either tear gas or pepper spray, according to KTVU's investigation.
Instead, the Solano County Sheriff's Office uses "verbal de-escalation and cognitive intervention techniques to gain voluntary compliance."
In an interview, Solano County Capt. Bill Hornbrook, who oversees the jails, said when they encounter a person who refuses court-ordered medication, deputies often call a clinical medical team or even the person's defense attorney to try to convince them to take their prescription. That works most of the time, he said. 
But if need be, Hornbrook said that deputies might grab a person on either side and hold them, restraining them physically, to force them to take their medication if they believe the person is going to harm themselves or others. 
He said he'd rather have deputies put hands on a person than spray them with a chemical agent and go through the entire decontamination process. 
If it's something like cancer medication and it's not court ordered, Hornbrook said, then deputies allow the person to make their own choice on whether they want to take it. 
To be fair, Solano County has 500 people in jail and has 1/6 the daily population of Santa Clara County's jails. 
Also in the North Bay, Marin County Sheriff Sgt. Adam Schermerhorn explained why they don't use tear gas there: The facility has a shared ventilation system and using it would inevitably affect others.
"Otherwise, we probably would use tear gas," he said. "It works better, especially if multiple inmates are attacking each other. If you can deploy a chemical agent, then they can't see and they're coughing. You can gain compliance faster without a lot of pain and discomfort."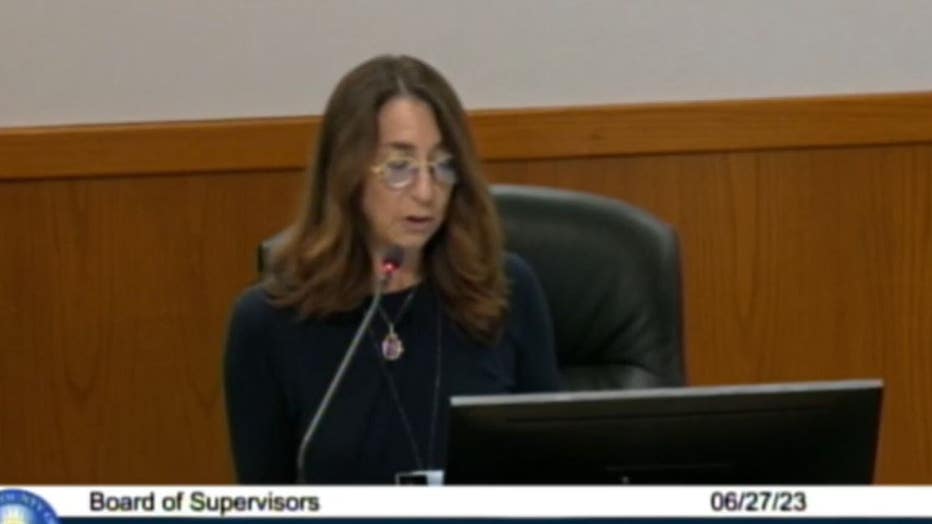 Santa Clara County Supervisor Susan Ellenberg has questions about the sheriff's use of tear gas. June 27, 2023
Supervisor halts military equipment purchases
In late June, Santa Clara County Supervisor Susan Ellenberg asked questions from the sheriff's office about why tear gas was being used and if every other possible de-escalation technique was employed before deploying the Clear Out, noting the health concerns associated with the CS gas. 
She said she was especially worried that on 16 occasions, people were tear-gassed for not following a directive, like exiting their cell.
"So, essentially passive noncompliance," she said. "Were reasonable alternatives used?"
Ellenberg then convinced the other supervisors not to approve the sheriff's request for more military purchases until a more thorough accounting could be presented to the board. The Palo Alto Daily Post first reported this purchasing pause. 
Michael Gennaco of OIG Group was hired by Santa Clara County's Office of Correction and Law Enforcement Monitoring, or OCLEM, to provide independent oversight of the sheriff's office.
He told KTVU that he had not yet determined whether the use of tear gas and pepper spray fell within policy, despite the sheriff's determination that it has and despite no objections from the OCLEM representative at the board meeting.
"We don't know the answer to that yet," Gennaco said.
He is now investigating the situation and expects to have an answer before the Aug. 29 Board of Supervisors meeting.
Valle of Silicon Valley De-Bug already has his answer. 
"I think they have enough tools," he said. "I don't think tear gas is needed. In any de-escalation scenario, something like Clear Out, something like tear gas, should just not be a tool at all. If the tool is there, it's going to be used." 
Read the sheriff's annual military equipment use report below. The purchase of chemical agents begins on page 33. The purchase and use of tear gas, or Clear Out, are listed on pages 45 to 48.  
KTVU's Ann Rubin contributed to this report. Lisa Fernandez is a reporter for KTVU. Email Lisa at lisa.fernandez@fox.com or call her at 510-874-0139. Or follow her on Twitter @ljfernandez.