Community gathers to celebrate life of slain mother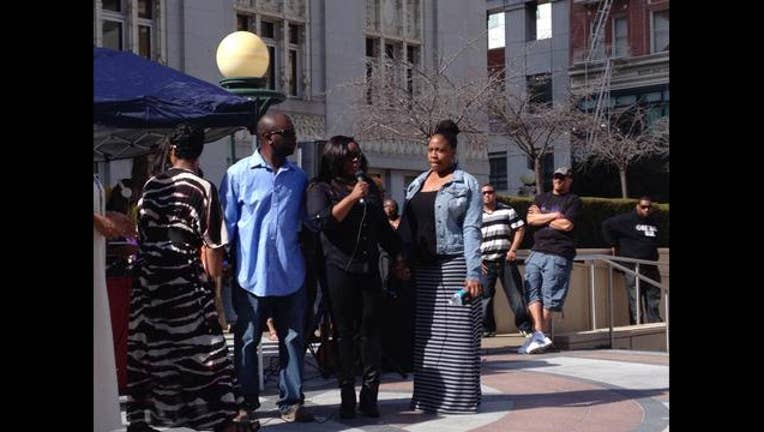 article
Oakland, Calif. (KTVU) - Dozens gathered outside Oakland City Hall on Saturday to celebrate life and honor those who have been lost to violence in the city.
The event was called "A Celebration of Life Dance Party," which involved local artists and music at Frank Ogawa Plaza, also referred to as Oscar Grant Plaza. For some residents, the music and dance was healing, especially because a community is in pain.
"Oakland has lost a lot of life period," Jennifer Johns, one of the organizers said.
The most recent life lost was 30-year-old Chyemil Pierce. She was an innocent victim who was trying to protect her children from gunfire in her West Oakland neighborhood on March 9 when she was killed. 
Chanté Regis, Pierce's sister, addressed the public for the first time since the incident and said her sister was much more than another life lost in Oakland.
"She was a cousin, she was a friend, she was a daughter," Regis said. "She was doing the thing that mothers do."
Regis also had a message for those who are careless when they pick up weapons. She said her sister did not have to be a tragedy.
"Take a moment to think about what you're doing before you do it, because a lot of time you're putting innocent lives at risk," she said.
The celebration of life not only honored Pierce, but the many other lives recently lost to violence.
"We lost a 14-year-old baby on the block a week before, we lost a 21-year-old father of a two month old the week before," Johns said.
Cat Brooks said there are victims on both sides of the gun and answer is strengthening community bonds.
"We are all one big family and the way that we stop losing life is remembering that, to live in that and walk in that," Brooks said.
"If we can extend that message then less of this will happen," Ryan Nicole said. "We're all accountable for each other."
Although Pierce's sister spoke publicly, we're told the family will be holding a private funeral for her in the coming days.