Consulate General of India in San Francisco damaged by protesters
SAN FRANCISCO - San Francisco police say the Consulate General of India was damaged by Sikh protesters and that workers from the building were injured in an attack. 
SFPD on Monday said that they responded to the foreign consulate on the 500 block of Arguello Boulevard at around 3:40 p.m. Sunday to respond to a protest for crowd control. 
Arriving officers found shattered glass windows on the building. 
Officials did not disclose how many workers were injured nor did they describe the severity of their wounds.
Police said following the attack, the suspects fled in an unknown direction and that no arrests have been made. 
The building was also covered in graffiti during the attack. 
Twitter user Ashok Swain, @ashoswai, a professor of peace and conflict research, shared a video of the building under attack. 
The brief video shows less than one minute of several men battering the building with objects including yellow Khalistan flags, using them to smash the windows. Sikh separatists aim to make Khalistan their own homeland.  
A similar protest happened the same day in London, where windows at India's High Commission were also smashed. In that attack, an arrest was made. 
The protests came a day after police in India's Punjab state launched a manhunt to capture Amritpal Singh, a separatist leader who supports the Khalistan movement. His supporters staged protests in the majority Sikh state over the weekend and 112 were arrested, the Press Trust of India news agency reported.
The Associated Press reported the U.S. State Department is working with local authorities to investigate the incident and repair the damage.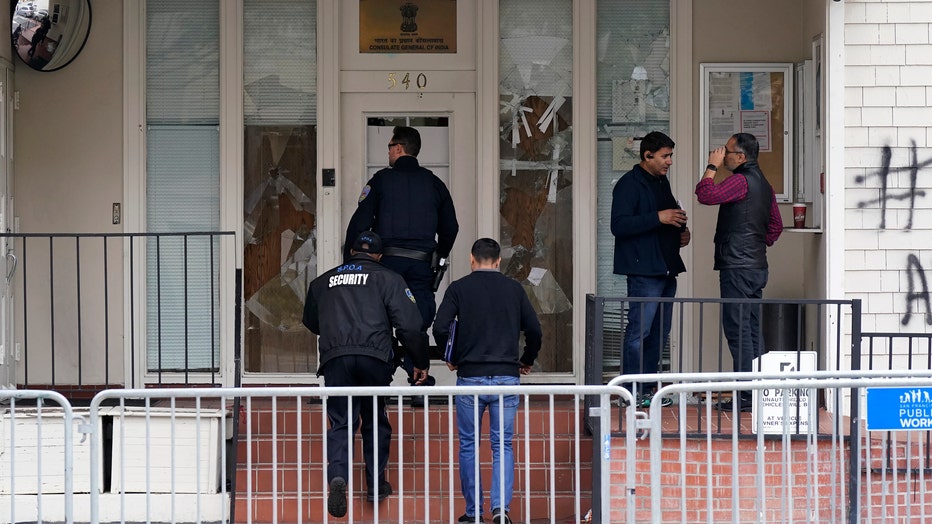 A San Francisco Police Officer, security guard and others stand in front of damage to the entrance to the Consulate General of India in San Francisco, Monday, March 20, 2023. San Francisco police had erected barriers and parked a vehicle nearby as pe
"We certainly condemn that vandalism," White House National Security Council spokesman John Kirby said Monday during a briefing. 
Jake Sullivan, White House National Security Advisor to President Biden also condemned the violence.
"We are committed to the safety and security of these facilities and the diplomats who work within them," he said. 
Protesters were outside the consulate once again on Monday, but were met with police barricades. 
SEE ALSO: San Francisco Muni shooting leaves 1 injured, suspect missing