Convicted FCI Dublin warden's move for mistrial has no merit: prosecutors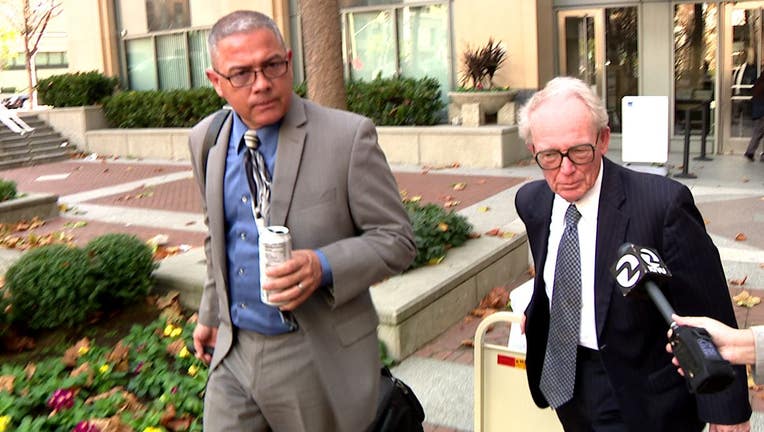 article
OAKLAND, Calif. - The move for a mistrial by the former warden of the Federal Correctional Institute at Dublin, who was convicted of eight counts of sexual abuse and lying to the FBI, should not move forward, U.S. attorneys told to a federal judge. 
Earlier this month, Ray J. Garcia, 55, filed paperwork in U.S. District Court arguing that he didn't get a fair trial, where a jury unanimously convicted him on Dec. 8, 2022. 
He was found guilty of three counts of having sexual contact with incarcerated women, four counts of abusive sexual contact and one count of lying to the FBI. 
But Garcia argued that his trial wasn't fair, pointing out that one juror brought her experiences as a woman into the deliberation room, revealed by the jury foreman in an interview with KTVU. 
Kevin Little, Garcia's new attorney, hired four days after his client was found guilty, also argued that Garcia's prior lawyer was "impaired based on a conflict of interest" and that the judge was biased against him. 
But "none of these arguments have any merit," argued Asst. U.S. Attorneys Mollie Priedeman and Andrew Paulson.
Instead, they countered in Feb. 23 court filings: "Over the course of three days, Garcia repeatedly lied under oath and unsuccessfully attempted to explain away the overwhelming evidence of his guilty. The jury did not find Garcia's testimony credible." 
The prosecutors argued that the only reason a new trial should be granted is in exceptional cases – and in this case, Garcia's complaints don't reach that bar.
The federal prosecutors argued that it is not "extrinsic evidence" when an elderly female juror reminded her peers to bring "humanity" into the deliberation room and used her experience as a mother and a sister to form her opinion. 
Extrinsic evidence is outside evidence that is inadmissible court, like forming an opinion based on reading a news article or if a doctor on the jury shared her opinion that a defendant's mental disorders helped him commit a crime. 
In fact, the prosecutors added that the courts have "consistently held" that jurors' reliance on their personal experiences does not violate a defendant's constitutional right to a fair trial, but that jurors must rely on their personal experiences to properly evaluate the evidence and render a verdict. 
"Varied juror experience is a virtue that assists juries in ascertaining the truth," the prosecutors wrote.  
Garcia is set to be sentenced on March 22 before U.S. District Court Judge Yvonne Gonzales Rogers. 
He is the highest ranking U.S. Bureau of Prisons official to be convicted of such crimes, according to the Department of Justice.
Garcia's guilty verdict vindicated the three women – Melissa, Maria and Rachel – who testified at trial that the former warden fondled and groped them, told them to undress, had them stroke him and sometimes took naked photos of them from 2019 to 2021.
In the past year and a half, nearly 40 other women have told KTVU that sexual abuse at FCI Dublin is real – whether it be at the hands of the warden, or another officer. 
Lisa Fernandez is a reporter for KTVU. Email Lisa at lisa.fernandez@fox.com or call her at 510-874-0139. Or follow her on Twitter @ljfernandez