Coroner finds no evidence of force in Oakland suspect's death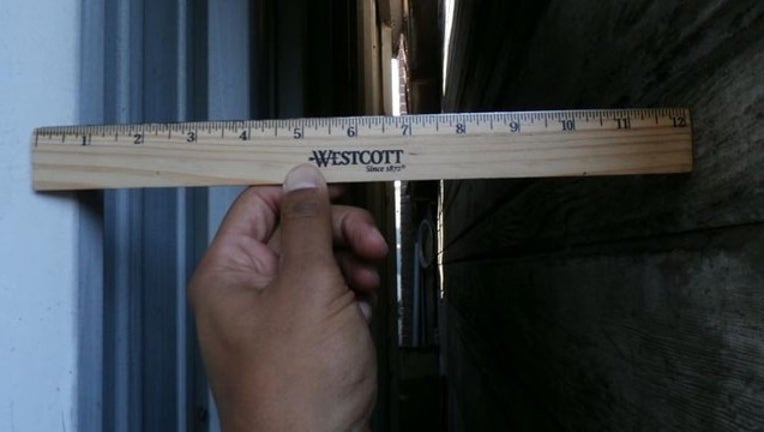 OAKLAND, Calif. (KTVU and wires) -- A preliminary investigation by the Alameda County coroner's bureau indicates Oakland police used no force against a man who died when he became caught between two East Oakland buildings Sunday evening, according to a coroner's official.
   It appears that Richard Linyard Jr., 23, of Oakland died because of injuries he suffered when he somehow wedged his 6-foot-tall, 190-pound body between two structures less than a foot apart in the 1600 block of 64th Avenue while running from a traffic stop, coroner's Sgt. Paul Graves said. 
   However, toxicology tests are still pending so a conclusive cause of death is still weeks away.
   Police said Linyard had a $10,000 warrant for his arrest when he was pulled over in the 1300 block of 65th Avenue, just off International Boulevard, at about 5:45 p.m.
   Linyard allegedly ran from the car into nearby yards. Police set up a perimeter and searched the area, finding him about a half-hour later about a block away stuck in the narrow space and unresponsive.
   Officers performed CPR and called an ambulance, but Linyard was pronounced dead a short time later.
 
   Investigators later determined Linyard had an unspecified $10,000 warrant for his arrest and a pound of marijuana in his car, according to police.
   Linyard was a rapper who went by the name Afrikan Richie and frequently collaborated with his younger brother, Devin, who went by Lil Dev.
   The two have posted numerous music videos to YouTube and released an album titled "Trubble" together last month. The album featured lyrics dealing with family issues, police brutality and growing up in a single parent household, according to a description written on Linyard's Soundcloud account.
   Numerous messages of condolence and disbelief were left on social media accounts belonging to Linyard and his brother in the days following Linyard's death. Many expressed anger and skepticism toward the police account of the incident.
   A GoFundMe page established to raise money for his burial has raised $1,950 of a $3,000 goal. 
   Linyard updated his Twitter account for the last time the morning before he died, writing, "Bless.. From me to you..Wake up & think positive. Positive sh-- will manifest!"