CPUC urges public safety at crossings for SMART train service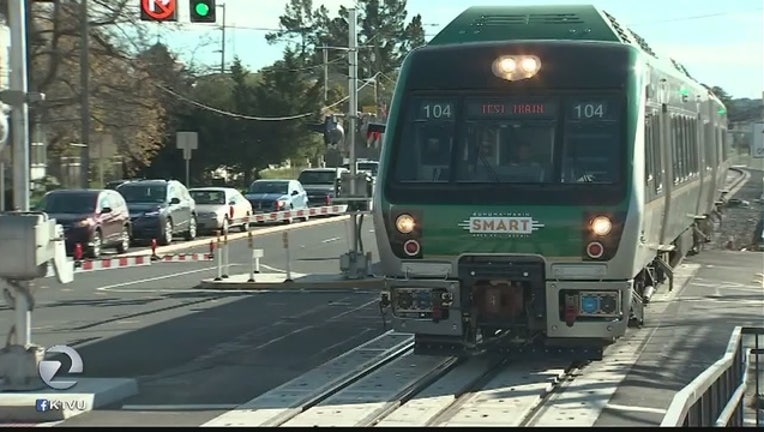 article
SANTA ROSA (BCN)— At a rare meeting in Santa Rosa today, the California Public Utilities Commission expressed concern about possible vehicle and pedestrian accidents at the Sonoma-Marin Area Rail Transit passenger train line's 63 grade crossings in Sonoma and Marin counties once trains begin service.
   
CPUC president Michael Picker specifically mentioned the Jennings Avenue crossing in Santa Rosa where residents traveling east and west on foot or bicycle are accustomed to crossing the Northwestern Pacific Railroad's tracks near the Coddingtown Mall.
   
The CPUC wanted Santa Rosa to build a bike and pedestrian overpass, but the city balked at the cost. In November 2015, a temporary barrier was installed to prevent crossings, but the CPUC in September 2016 approved a ground-level crossing that includes safety gates and lights.
   
The crossing is next to a school, and Picker urged the Sonoma-Marin Area Rail Transit District to "do your best to educate the public about the dangers at crossings."
   
Picker said young people who wear earbuds while they walk are particularly in danger when they cross the tracks.
   
"Fifty people nationwide die in rail (crossing) accidents," Picker said.
   
The CPUC's Safety and Enforcement Division has safety oversight of railroads and rail crossings.
   
SMART is currently finishing inspections of 63 grade crossings along the initial 43-mile segment between Airport Boulevard in Santa Rosa and downtown San Rafael.
   
Commuter train service was supposed to begin in December, but a flaw in the crankshaft of the diesel engines that would run the 14 train cars and unfinished inspections at the 63 crossings have delayed passenger service.
   
SMART officials expect train service to start before summer. At a meeting Wednesday, the SMART board of directors discussed a code of conduct for train passengers and parking rates and regulations at lots near train stations. The board meets again April 19 in Petaluma.