Curry is All-Star man of the moment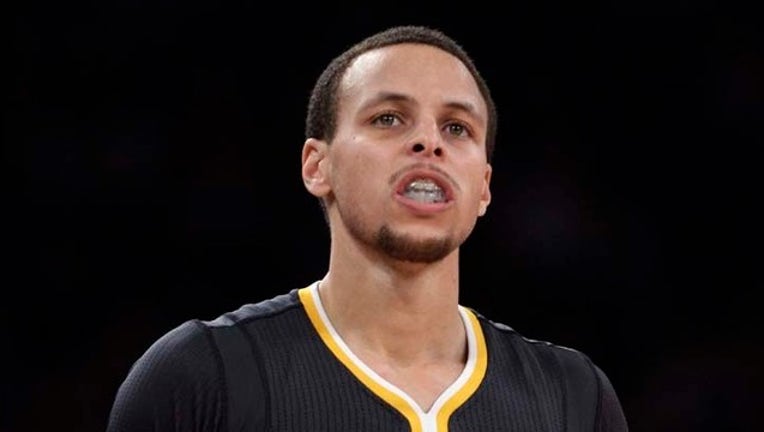 article
NEW YORK (AP) — Stephen Curry will take on his teammate and team up with his father, then finally take the floor as the leading vote-getter for the All-Star game.
The Golden State Warriors' guard might be the man of the weekend, and even he can't believe how quickly it's happened after he was an All-Star snub just two years ago.
"I remember where I was the night I didn't hear my name called and thought that was a real possibility," he said. "I was in Chicago sitting in the hotel room watching the announcements and obviously (David) Lee was a representative, so happy for him, but in two short years obviously where it is now, it's unreal."
Curry rebounded from not getting chosen in 2013, when he had the highest scoring average among players not picked, by being a first-time selection last year. He finished more than 42,000 votes ahead of LeBron James to be the top vote-getter this season, and he heads to the break as a leading candidate for the MVP award.
The Warriors have the NBA's best record and will be well-represented on Sunday. Steve Kerr will coach the Western Conference, and he tabbed Curry's backcourt mate, Klay Thompson, to start in place of the injured Kobe Bryant.
The night before, Curry and Thompson are part of an elite field for the All-Star Saturday 3-point contest. Curry will also team up with his father, Dell, a former NBA player, and the WNBA's Sue Bird in the shooting stars competition.
He says there is more pressure to beat his teammate than there is to not lose with his dad.
"The Currys have never won a 3-point contest, so I think that's probably the more pressure," he said.
Even if he loses them all, it's a big weekend for Curry. His career-high performance of 54 points in February 2013 came at Madison Square Garden, site of Sunday's game, not long after the last All-Star game that went on without him.
Hard to imagine him missing another one any time soon.
"Just to be on a winning team, best record in the West and have the vision that we have for this team this year," Curry said, "and then all the other stuff that comes from that when it comes to personal accolades and acknowledgements and all that stuff, kind of try to keep it in perspective because it is crazy.
"In two years, that's a lot that's happened."
Here are other things to watch during All-Star weekend:
ONE CITY, TWO ARENAS: The Friday and Saturday events go to Brooklyn's Barclays Center, while the Knicks' Madison Square Garden hosts the All-Star game Sunday. The teams may be rivals on the court, but Commissioner Adam Silver insists it was easy to get them to share the festivities.
"I wish there was some smoke filled-room story in Moscow that I could tell you, but in fact both organizations were incredibly cooperative," Silver said.
MICHELE'S MOMENT: Michele Roberts will hold her first All-Star press conference since being chosen last year as the NBA Players Association's executive director, the first woman to head a North American team sport's union. Her weekend won't be all business — she's bringing back the popular Player Association's party that's been on hiatus for a few years.
CELEBRITY COACHES: Knicks All-Star Carmelo Anthony and director Spike Lee will serve as coaches in Friday's celebrity game. Anthony plans to be a laid-back one.
"All celebrities feel like they think they know how to play basketball. Some of them are pretty good, so just a matter of putting them out there and throwing the ball out there and telling them to go," Anthony said. "They're going to do their own thing anyway."
What about Lee, the Knicks' most passionate celebrity fan?
"Oh, Spike is going to be into it," Anthony said. "Spike'll be loud, Spike will be really coaching."
MISSING MEN: All the stars aren't healthy enough to be All-Stars. The West roster is missing the injured Bryant, Blake Griffin and Anthony Davis, all of whom had been voted by fans as starters.
HELPING HAND: Visiting New York and have any questions? Tweet them to the State Farm assist center — @SFNBA — that's set up at the NBA House and use #Allstarassist, then wait for an answer.