Curry scores 51, Warriors rally from 22 down to stun Mavs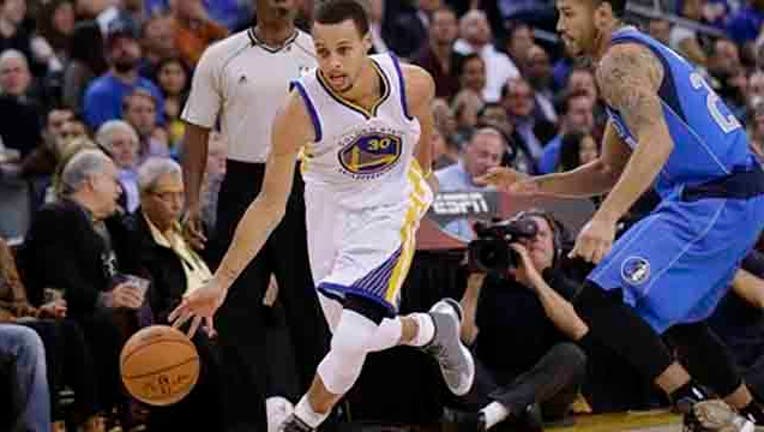 article
OAKLAND, Calif. (AP) — Stephen Curry scored a season-high 51 points and made a season-best 10 3-pointers, rallying the Golden State Warriors from an early 22-point deficit to down the Dallas Mavericks 128-114 on Wednesday night.
Curry connected on 10 of 16 shots from beyond the arc and 16 of 26 overall. The All-Star point guard and MVP candidate put on a dazzling dribbling display to match his streaky shooting stroke, helping the NBA-leading Warriors (39-8) complete their biggest comeback of the season in front of a roaring sellout crowd of 19,596.
Chandler Parsons scored 24 points, and Tyson Chandler had 21 points and 17 rebounds in a disappointing defeat for Dallas, which played without injured point guard Rajon Rondo again. The Mavericks led 40-18 in the first quarter before Curry carried Golden State back.
The Warriors improved to a league-best 23-2 at home.
Curry finished just shy of his 54-point masterpiece at Madison Square Garden on Feb. 27, 2013. He made a career-high 11 3-pointers in that game, a 109-105 loss to the Knicks, but could savor a home victory this time.
Curry scored 41 points on nine 3-pointers to give Golden State a 101-98 lead through three quarters. The Warriors stretched that margin to 112-101 early in the fourth with Curry on the bench, then called him back when the Mavericks moved within seven.
The quick-footed guard guided the Warriors in the right direction, and put the game out of reach when he ran down an errant pass by Devin Harris in the backcourt and drew a foul on Dirk Nowitzki while going for a layup. Curry made both free throws, then hit another pair the next time down to give Golden State a 124-113 lead with 1:35 remaining.
Curry capped his big night with a step-back 3-pointer in the final minute, setting off chants of "M-V-P! M-V-P!" throughout the building.
His hot-shooting performance only highlighted an impressive display by the Warriors, who hit 19 of 38 shots from 3-point range. The Mavericks made 10 of 30 from beyond the arc.
Klay Thompson had 18 points, and reserves Marreese Speights and Leandro Barbosa scored 14 each as the Warriors won their third straight game. They begin a stretch of 10 of 11 on the road Friday night at East-leading Atlanta.
The Mavericks (33-18) had won three in a row and looked poised at the outset to extend their streak in the NBA's toughest venue for visiting teams.
With Chandler gobbling up rebounds and shooters all over the floor, Dallas took advantage of the Warriors inside and out at the start. The Mavericks went ahead 24-4 in a little more than six minutes, stretched their lead to 22 and held on for a 42-25 advantage at the end of the first quarter.
It was the most points the Warriors had allowed in any quarter this season.
Golden State answered with an equally impressive second quarter, opening with a 15-2 run bolstered by the bench. The Warriors trimmed Dallas' lead to 62-58 at halftime and went ahead early in the third quarter, with Curry creating his own shots and bringing fans screaming out of their seats after every swish.