DA charges football player and 'brazen' crew with more than 60 UPS and FedEx robberies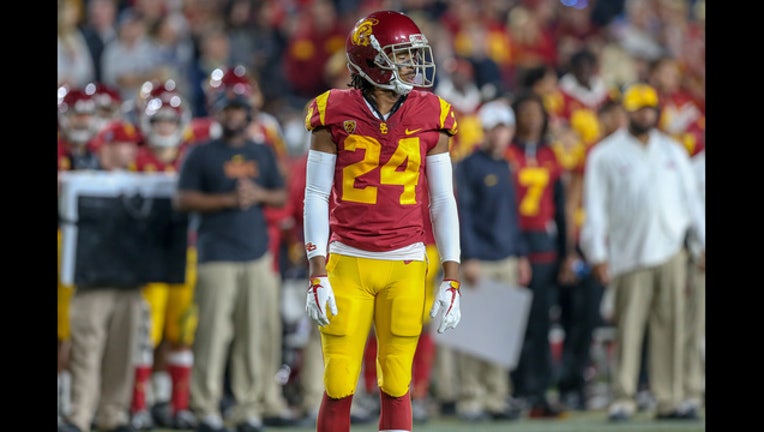 OAKLAND, Calif. (KTVU) - Isaiah Langley, briefly signed by the Oakland Raiders and recently waived by the Indianapolis Colts, has been charged by Alameda County District Attorney as being part of "brazen" crew in 61 robberies of UPS and FedEx drivers across Northern California, netting $1 million in stolen electronics. 
According to the prosecutors' declaration, he is one of 12 people connected to robberies that span from Dec. 6, 2018 to Aug. 21. Prosecutors allege that Langley and his crew stole mostly cell phones, tablets and other electronic devices by renting a vehicle and then robbing the delivery truck drivers as they were dropping off packages, the statement reads. The suspects would then discard anything that wasn't of value.
In addition, prosecutors said six guns were seized, including an assault rifle and two illegal magazines. 
Langley, 22, was identified through cell phone data, surveillance video and physical evidence, prosecutors said and is linked to robberies in Pleasant Hill, Fairfield and San Jose. It was a partial palm print left at a Pleasant Hill site that led police to begin to unravel the robbery ring, prosecutors said. 
On Aug. 20,  dozens of opened Amazon packages were found discarded along the Guadalupe River in San Jose and most of the contents inside the boxes were gone. The woman who found the boxes estimates thousands of dollars of goods were stolen likely from a truck and dozens of customers were victimized. It wasn't immediately clear if this incident is linked to Langley. 
Efforts to reach Langley were not immediately successful and it wasn't immediately clear if he had an attorney. Langley was taken into custody in Lake Forest, Illinois and is expected to be brought to Alameda County for arraignment at a future date.
Seven defendants were charged on Tuesday. They are: Ahlayah Thompson, 24, of Ripon; Corneilus Ronnell Brown, 25, of Alameda; Cedric Thomas, 28, of Pittsburg; Yamonte Tyrell Cross, 24, of Oakland; Ciera Craig, 26, of Oakland; Alisa Bobino, 25, of Oakland; and Diamond Jones, 24, of San Leandro.
There are active warrants out for the arrests of four others. They are: Fard Collins, 24, of Oakland, D'Anthony Larks, 24, of Oakland, Marquis Lewis, 23, of Oakland, and Julius Smith, 23, of Discovery Bay. 
Langley was signed by the Raiders on June 11 and cut on Aug. 9. Two days later, the Colts signed him, but he was waived on Aug. 31, the day he was arrested. 
He played college football at USC. 
Police from Oakland, Fremont, Sacramento, San Leandro, Tracy and Union City, as well as the California Highway Patrol, UPS and DA's investigators helped make the arrest.