DA: It's too early to know how woman died in Texas jail cell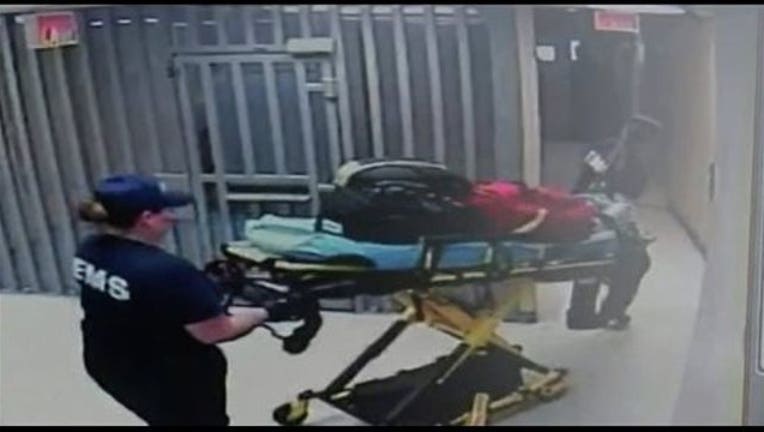 article
HEMPSTEAD, Texas (AP) — A Texas prosecutor says there are many unanswered questions about the death of a black woman whose family disputes authorities' finding that she hanged herself in a jail cell three days after a confrontational traffic stop, and that the case is being examined as thoroughly as a murder investigation.
Waller County District Attorney Elton Mathis said at a news conference Monday that a Texas Rangers investigation the death of Sandra Bland is being supervised by the FBI. Authorities have said the 28-year-old woman from Naperville, Illinois, hanged herself with a plastic garbage bag July 13.
Her death at the Waller County jail, about 60 miles northwest of Houston, comes amid increased national scrutiny of police after a series of high-profile cases in which blacks have been killed by officers.
"It is very much too early to make any kind of determination that this was a suicide or a murder because the investigations are not complete," Mathis said.
He said he's asked the Texas Rangers to do extensive scientific testing for fingerprints, DNA and to use any other valid investigative techniques "so we can figure out and say with certainty what happened in that cell."
"This investigation is still being treated just as it would be in a murder investigation. There are many questions being raised in Waller County, across the country and the world about this case. It needs a thorough review," Mathis said, noting, "It will go to a grand jury."
Capt. Brian Cantrell, head of the sheriff's department criminal investigation division, said at the same press conference that Bland's death "was a tragic incident, not one of criminal intent or a criminal act" but that he welcomed the investigation.
Although a medical examiner has ruled Bland's death a suicide, supporters insist she was upbeat and looking forward to a new job at Prairie View A&M University, where she graduated in 2009. She was in the area last week to interview and accept the job. Bland's family and clergy members have called for a Justice Department probe, and an independent autopsy has been ordered.
Bland's death has resonated on social media, with posts questioning the official account and featuring the hashtags #JusticeForSandy and #WhatHappenedToSandyBland. Others have featured #SandySpeaks, referring to the hashtag Bland had used in monologues she posted on Facebook. In them, she talked about police brutality and what she said was a calling from God to speak out against racism and injustice.
Also on Monday, authorities released a three-hour video taken from outside Bland's jail cell and said they expected to release dashcam footage of her arrest Tuesday.
The jail video shows a period of about 90 minutes with no activity in the hallway leading to Bland's cell. The video does not show the inside of her cell or even her cell door.
It then shows a deputy reacting to what she sees while looking in the cell, triggering a frenzy of activity. An EMT crew arrives with a wheeled stretcher. Deputies and medical personnel are seen coming and going, but a body isn't visible.
Cantrell said the video was motion sensitive, indicating if nothing is taking place after a certain amount of time, it turns off. He said the FBI has been given hard drives to determine if there's been any manipulation.
Cantrell said a guard checked with Bland about two hours before she was found dead and Bland told her, "I'm fine." About an hour later, Bland asked to make a telephone call and was advised over an intercom that the phone was on a wall in the cell, according to Cantrell. There is no record of her ever making a phone call, he said.
Cantrell declined to describe Bland's death in detail, though he said she was found with her feet touching the ground. He described the plastic garbage bag used as a ligature by extending his hands about 5 to 6 feet apart.
The bags, he said, had been approved by a jail inspector, but have since been removed from all cells.
Mathis also said Monday that jail records show Bland had been offered a medical checkup while in custody but declined.
Bland's sister, Shante Needham, has said Bland called her from jail the afternoon after her arrest, telling Needham an officer had placed his knee in her back and she thought her arm had been broken. The Department of Public Safety has said Bland "became argumentative and uncooperative" during the stop and her subsequent arrest for assault on a public servant, and that paramedics were called to the scene but Bland refused a medical evaluation.
Mathis said the dashcam video is consistent with information the officer has provided about the traffic stop, though he said it shows only restricted views of the encounter. The trooper's dashcam shows a view forward toward Bland's car, but not inside and not to the side, where she wound up on the ground after authorities said she kicked the officer.
Cantrell said the video doesn't show how Bland got on the ground.
"Sandra Bland was very combative," Mathis said. "It was not a model traffic stop ... and it was not a model person that was stopped on a traffic stop. I think the public can make its own determinations as to the behaviors that are seen in the video."
A cellphone video posted online purporting to show part of Bland's arrest shows an officer pinning a woman to the ground with one knee. At one point the woman can be heard yelling that she can't "feel my arm."
"You just slammed my head into the ground," she says. "Do you not even care about that?"
DPS has said the trooper who stopped Bland violated traffic stop procedures and the department's courtesy policy but hasn't elaborated further. The trooper is on administrative leave pending the outcome of an investigation.