DeMarcus Cousins to debut amid Warriors win streak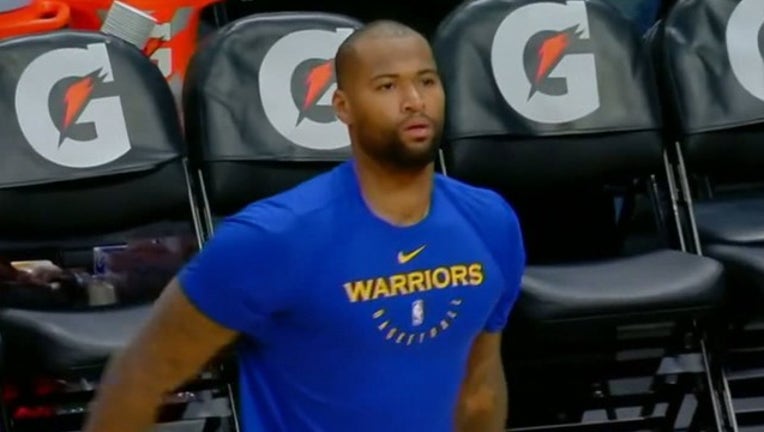 article
OAKLAND, Calif. (KTVU) - The anticipation is over. The Warriors compelling experiment will be put to the test Friday night when former All-Star DeMarcus Cousins joins the two-time reigning NBA champions against the Los Angeles Clippers at the Staples Center.  
Cousins, who hasn't played since he tore his left Achilles' tendon on Jan. 26, 2018 while playing for the New Orleans Pelicans, rallied to return a few weeks back but backed off when the team said he'd be on limited minutes, according to Yahoo Sports. When he returns Friday, the 6-foot-11 and 270-pound center will have no official restriction on how much he plays. 
He will, however, play in short intervals, according to head coach Steve Kerr.
"It won't be simple," said Kerr of working Cousins into the lineup, per ESPN. "Because he's a dominant player…He's used to having the ball in his hands an awful lot. But on this team we got a lot of guys who have the ball in their hands, so it will take some time for sure."
Cousins was having a career season with the Pelicans before he went down with one of the worst injuries an athlete can suffer—especially one of Cousins' size. He was averaging 25.2 points, 12.9 rebounds and 5.4 assists at the time. Not to mention, it was a contract year with free agency exploration guaranteeing a substantial payday. 
But concern for the 28-year-old's bounce-back ability echoed throughout the league. The history of athletes returning from Achilles injures is gloomy and teams balked at the idea of offering the former Kentucky Wildcat a long-term contract. So the Warriors swooped him up for a modest $5.3 million and it's virtually infallible. Because while it's unknown if Cousins will return to being a top-level player, that doesn't really matter, at least initially.
The Warriors don't need Cousins the way the Sacramento Kings—where he began his career—and Pelicans needed him. He will take dramatically less shots than he's used to. He's not the centerpiece of the franchise. Even if at first he's struggling to make shots at a high percentage, if his presence draws attention from defenders, someone from the Warriors fleet of shooters will be open. 
"He's still going to be effective when he has the ball in his hands, but not as much," said two-time Finals MVP Kevin Durant, per ESPN. "Just like it is for Steph [Curry], myself, Klay [Thompson]. We're still who we are, but instead of 20 opportunities a game, it might be 13 or 14. So that's how it's going to be with [Cousins]." 
Cousins is also coming in while the first-place Warriors are on a hot streak. They've won their last six games since losing to the Rockets on Jan. 3 and they entered Friday's matchup a half-game ahead of the Denver Nuggets in the Western Conference standings. 
Now it's just a matter of time before the lingering questions are answered: Can Cousins keep up with the Warriors pace? How well will he fold into such a star-studded offense? How will having two highly-emotional players—Cousins and Draymond Green—play out? 
Green believes the adjustment will be challenging, but talent will help thrust the team through the difficult process. "I think two things: It is a completely different pace than he's ever played since he's been in the NBA," Green said, per ESPN. "And he's coming off an Achilles injury doing that. That's tough. Nonetheless, DeMarcus is one of the greatest talents in this league. So we're not going to play at some pace that he can't play at and make him irrelevant to our offense. We're going to make it work."
The pace will be different for Cousins, yes, but his presence down low is also a weapon Kerr's Warriors have never had. Kevon Looney, a fourth-year player who is undersized as a center at 6-foot-9 and 220 pounds, took over after Damian Jones went down with an injury and he's started all but one game since. Looney averages 6.6 points per game and 5.9 rebounds per game.  
If you factor this hole into other season woes—including Stephen Curry missing 11 games due left groin strain and the Draymond Green and Kevin Durant beef—the Warriors have struggled this season. By their own towering standards, though, not like league-worst Cleveland Cavaliers kind of struggle. Yet they've managed to remain atop the Western Conference. 
Regardless of what aspect of Cousins joining the Warriors is most intriguing, on Friday fans are set to see five All-Stars start a January NBA game. And that's baffling.