Despite no permit, thousands gather for SF SantaCon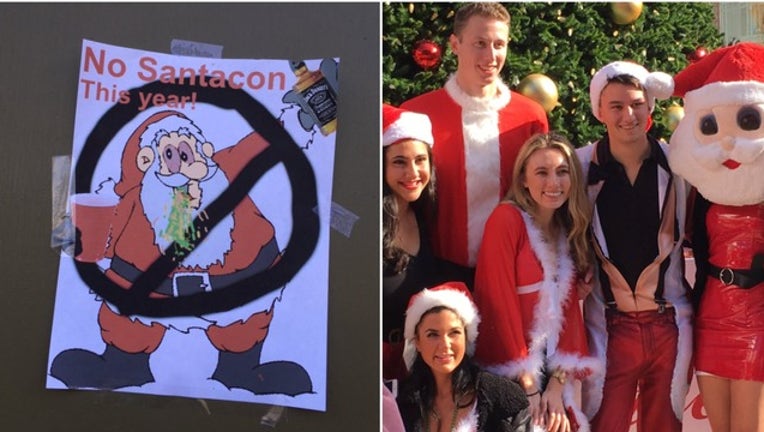 article
SAN FRANCISCO (KTVU) - Permit or no permit, SantaCon was on. Thousands of Santas, Elves, and Reeindeer gathered at San Francisco's Union Square for the festive tradition in its 24th year. 
Ralph Torrance flew in all the way from St. Louis, Missouri to join in the Christmas cheer. "I really think it's a good thing," said Torrance, who dressed like an elf. "I know sometimes it leads to bad consequences, people drinking too much, but it's hard to downplay the excitement and joy of the event."
Organizer "Santa Tom" collected gifts for a toy drive. He admits there are some "bad Santas" but most would still make the good list. He just wants everyone to enjoy themselves. 
"Last year we had 17,000 people filling the square. It was awesome," said Santa Tom. 
San Francisco Rec and Parks denied SantaCon a permit because the crowds pose a safety issue. That didn't stop the event from taking place. SF Park Rangers, police, and firefighters were all there, making sure things didn't get out of hand. Santa Tom says he plans to apply for a permit next year, although it will be pricey. "A permit to use Union Square is about $7,000," said Santa Tom. "Plus a sound permit which I don't know how much that costs. But it's going to be a big ticket. And I don't know where we are going to get the money for it. But we're going to try!"
This year there was no sing-along or costume contest. The pub crawl continued – bars were packed with some lines stretching down the street. 
"Everyone seems happy," said one woman dressed like a reindeer. "We're just bringing some toys for kids and having beers."
One bar in North Beach made it clear it was not the North Pole.
Signs saying "No SantaCon" with cartoons of a vomiting Santa were posted outside Mario's Bohemian Cigar Store Café. "We don't want a bunch of drunken Santas and elves," said employee Dario Crismani. 
He said in the past, crowds turned unruly, and scared off customers. "People were peeing in our sinks. It was just a big mess," said Crismani. "So we were just like, we're done. And we're trying to keep it more for locals and people who want to come here and enjoy themselves."