District 7 special election down to final hours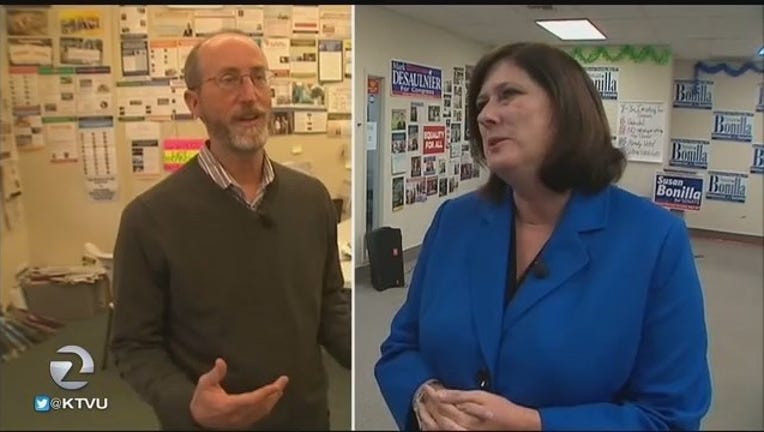 article
CONCORD, Calif. (KTVU) - A bitter and expensive campaign for a state Senate seat in the East Bay is now in its final hours.
Assemblywoman Susan Bonilla and Orinda Mayor Steve Glazer are vying for the District 7 seat vacated by Mark DeSaulnier who was elected to Congress.
It includes large parts of Alameda and Contra Costa counties, stretching from the Caldecott, to the delta and south to Sunol.
It was a frenzy of phone calls at Bonilla's campaign headquarters in Concord ahead of Tuesday's special election.
Volunteers called constituents encouraging them to support the Assemblywoman.
"I would like to be able to have this opportunity to continue working on what I have begun," Bonilla said.
Bonilla, who will term out of her Assembly seat next year, told KTVU she has more to achieve in Sacramento.
"I feel like I'm right in the middle of some very good work, particularly around the modernization of public schools," she said. "I want to see us do a better job in early childhood education, to completely modernize our public education system and to make sure those students have access to higher education here in California."
In nearby Orinda, a raspy candidate Steve Glazer touted his time as mayor and said Sacramento needs new blood to end partisan bickering.
"My message is hitting a sweet spot of the voters in the district," Glazer said. "They want someone who's progressive but they want them who to be fiscally conservative and they want them to have courage, that if things are going wrong they are willing to stand up and take on the power and say so."
The lead up to Tuesday's special election has been a fierce battle, unlike we've seen in a state Senate race.
There have been charges of stealing and defacing opponent's signs, illegal campaigning and intense advertising, including pricey television ads.
Both candidates told KTVU they're proud of their campaigns and are hopeful the nasty and negative tone didn't turn off voters.
"I have a strong base of grassroots support and we worked very hard to explain to people who I am," Bonilla said.
"I feel like my message about who I am has gotten out. That I'm a problem solver not a partisan," Glazer said.
This has been one of the most expensive and contested state Senate races in California history.
Campaign records show in the five months leading up to the election, the two candidates' committees raised nearly $2 million.