Doctors perform rare heart surgery to save Mill Valley cat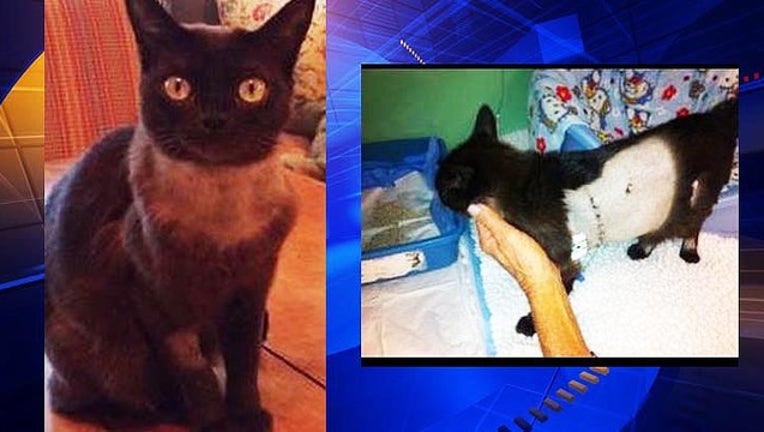 article
SACRAMENTO, Calif. (KTVU and wires) -- Blood was pooling inside the heart of 1-year-old Burmese cat Vanilla Bean, causing a chamber to grow larger as part of a defect that would eventually lead to congestive heart failure.
The rare heart defect hurting the Mill Valley cat also occurs in children, so a veterinarian called in a team of doctors who usually treat humans to help him.
The technique to correct the problem in a cat had reportedly been done only once before, by UC Davis Veterinarian Josh Stern -- the same vet who operated on Vanilla Bean.
Stern teamed up with cardiologists from the UC Davis Medical Center and successfully put catheters and balloons inside Vanilla Bean's heart.
"I needed a human cardiology team to help guide me on this case, as well," said Stern. "It's so uncommon in cats. It's uncommon in children also, but they've certainly seen more cases of this than I have."
Vanilla Bean was able to go home eight days after her surgery.
A week later, she returned to the VMTH for a check-up. Her creatinine levels, while still not in the normal range, continued to drop. An echocardiogram showed the pressure in her heart had not changed since the reduced pressure was measured during the surgery, which meant the balloon dilatation was successful.
At her four-month re-check examination, Vanilla Bean has continued to improve. She is no longer in congestive heart failure, and is off all medications, Stern said,
Vanilla Bean's creatinine levels have returned to the normal range. Stern expects her to make a complete recovery, as she appears to be on the road to a healthy life.