Dog shot, tied to train tracks begins road to recovery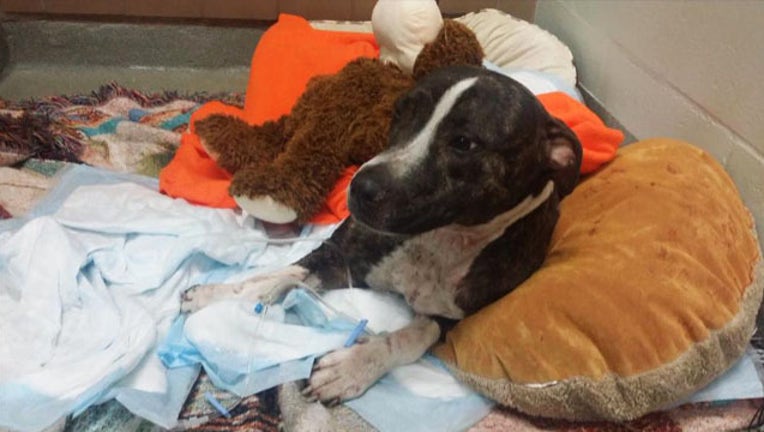 Tampa police officers rescued a dog Wednesday night that had been shot twice and tied to train tracks.
Police got calls about shots fired in the Sulphur Springs area around 5:30 p.m.
Officers found the dog tied to tracks about 100 feet north of Eskimo Drive. The 2-year-old female mixed breed had been tied to the tracks with a belt and had been shot twice, once in the neck and again in the shoulder.
They freed the dog and rushed her to emergency veterinary care.
Had the officers not found her, she would have likely been run over.
"This is an active train track," said Lt. Michael Stout with the Tampa Police Department. "The chances of a train on that track being able to stop in time are slim."
Stout added that the dog had lost a lot of blood.
"The gunshot wounds were critical. She had lost a critical amount of blood when our officers got to her," Stout said.
The department tweeted out the officers who found the dog named her "R&R". Hours later they said she'd been given a new official name: Cabela.
Vets say the "sweet, good-tempered" dog will likely have to have a leg amputated because she also has a fractured femur.
The procedure would likely take place Thursday afternoon, but the vets say they want to monitor her breathing, blood pressure and fluids before beginning any major procedures. 
The operation and follow-up care is estimated to cost somewhere in the ballpark of $3,000. Those wishing to make a contribution to Cabela's cause are urged to contact Tampa Bay Veterinary Emergency Service Clinic at 813-265-4043.
Police now want to hear from anyone with information about the dog's owner. You can contact the department at 813-231-6130 or through Crime Stoppers at 1-800-873-TIPS.
(Images courtesy of the Tampa Police Department.)