Effort to repeal California gas tax rolls forward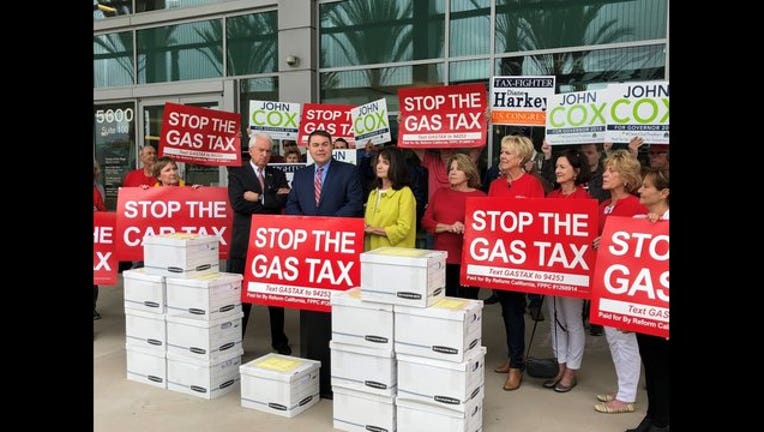 article
OAKLAND, Calif. - An effort to repeal the new California gas tax that funds road improvements moved forward Monday as supporters submitted enough signatures to put an initiative on the November ballot. 
Since November, motorists have paid 12 cents more per gallon at the pump. Additionally, a new vehicle registration fee ranging from $25 to $175-- depending on the value of the vehicle --went into effect in January. 
The proposed ballot measure would repeal more than $5 billion annually raised by the tax and fees for transportation and road safety and improvements, including filling potholes, repairing local streets, freeways, tunnels, bridges and overpasses. 
Potential projects include major commuting corridors near Sacramento, Highway 101 in Sonoma County and Interstate 580 in the East Bay. Many of the 4,000 statewide projects are already underway using the new revenues.
"Every community across California is already benefiting from this much needed funding that will improve the condition and safety of our local streets and roads," said Carolyn Coleman, executive director of the League of California Cities, in a statement. "Cities have thousands of local transportation projects already in the pipeline that will make our roads safer and our commutes better. We have an obligation to every citizen and California driver to defeat this initiative."
But former San Diego City Councilman Carl DeMaio, who is heading the effort to repeal the gas tax, said California politicians misrepresented the true cost of living increase from the new tax and fee hikes.
"The support for the gas tax repeal is overwhelming,'' DeMaio said Monday after submitting the signatures at the San Diego County Registrar of Voters office. "We are seeing support from Democrats, Independents, and Republicans, and from all around the state."
DeMaio, who is currently the chairman of the political action committee Reform California, said a family of four with two cars is paying nearly $800 more a year under the tax and fee hikes.
DeMaio hopes to put an end to that. 
He said a grassroots campaign has already raised $1 million toward the repeal and hopes to raise an addition $4 million for the campaign to pass a constitutional amendment. An amendment would repeal the increases and require future hikes to be decided by voters.
"We know that Gov. Brown and his cohorts are going to spend an amazing amount of money to mislead voters," DeMaio told the Los Angeles Times. "But I feel pretty confident that we will repeal the gas tax."
Opponents said they will mount a "vigorous and well-funded campaign" to defeat the ballot measure.
The signatures submitted Monday now need to be verified before the initiative can move forward.