Winds, dry conditions cause high fire danger, threat of widespread outages
OAKLAND, Calif. - High winds and dry conditions have prompted Pacific Gas and Electric to alert its customers their power could be shut off this weekend. This time, nearly half a million customers could be impacted in 38 counties and 25 tribal communities. 
Portions of eight Bay Area counties are affected including; Alameda, Contra Costa, Marin, Napa, Santa Clara, San Mateo, Solano, and Sonoma. 
The potential outages are expected to begin as early as Sunday morning. PG&E says they will make a decision on whether the public safety power shutoff is necessary some time Saturday.
A total of 143,727 of the utility's Bay Area customers could see outages. Alameda and Sonoma counties are the hardest hit of the Bay Area counties.
City of Berkeley officials are advising hills residents to consider leaving the area before Sunday afternoon and to, "stay elsewhere until fire danger subsides." 
Winds are expected to subside Tuesday morning at which point PG&E says they will inspect their lines in impacted areas to check for damages before re-energization. 
Alameda County: 39,401 customers, 1,483 Medical Baseline customers

Contra Costa County: 20,148 customers, 957 Medical Baseline customers

Marin County: 19,626 customers, 608 Medical Baseline customers

Napa County: 15,598 customers, 510 Medical Baseline customers

San Mateo County: 4,458 customers, 120 Medical Baseline customers

Santa Clara County: 4,770 customers, 238 Medical Baseline customers

Solano County: 1,606 customers, 100 Medical Baseline customers

Sonoma County: 38,120 customers, 2,111 Medical Baseline customers
PG&E will provide community resource centers if the outages do occur. They will be equipped with ADA-accessible restrooms and hand-washing stations; medical-equipment charging; Wi-Fi; bottled water; and non-perishable snacks. They are reminding customers to keep their phones charged and to have batteries on hand for things like flashlights. 
Meanwhile, a red flag warning for fire danger has been issued for the entire San Francisco Bay Area and much of northern California beginning on Sunday.
The high level of concern stems from the powerful winds that are forecast to rip through the region. The forecast calls for 60-70 mph gusts favoring higher peaks, while strong winds will be widespread, essentially covering the entire Bay Area. Any spark could be blown into flames sweeping through tinder-dry brush and forestland.
"On a scale of 1 to 10, this event is a 9," Craig Clements, director of San Jose State University's Fire Weather Lab, told the Bay Area News Group. "Historically our biggest fires are in October. We are in a critical period."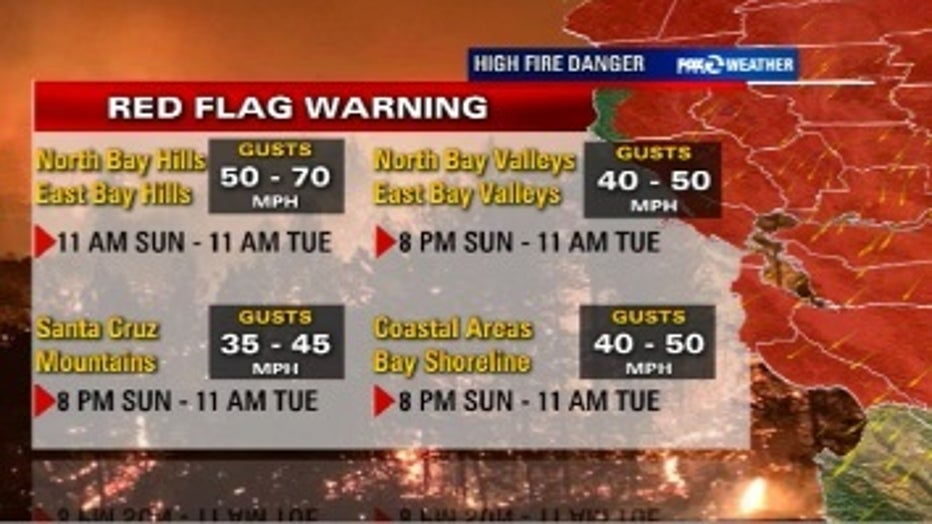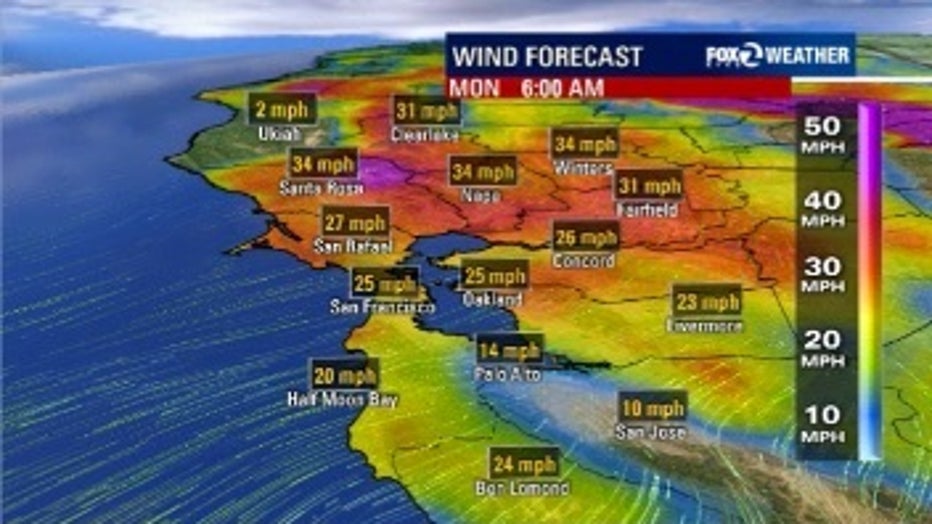 The National Weather Service said winds are supposed to be the strongest of the 2020 fire season. 
NWS said the conditions could equal those during devastating fires in the North Bay's wine country in 2017 and last year's Kincade Fire.
The warning takes effect for the North Bay mountains and East Bay hills on Sunday at 11 a.m. and spreads to the rest of the Bay Area by Sunday evening. It remains in effect until Tuesday morning. A high wind watch will also be in effect.
Precautions were being taken in other forms. The East Bay Regional Park District decided to close 11 of its parks on Sunday and Monday, because a "20-year wind event is expected to hit the Bay Area."  Details about the park closure are here.
Associated Press contributed to this story.